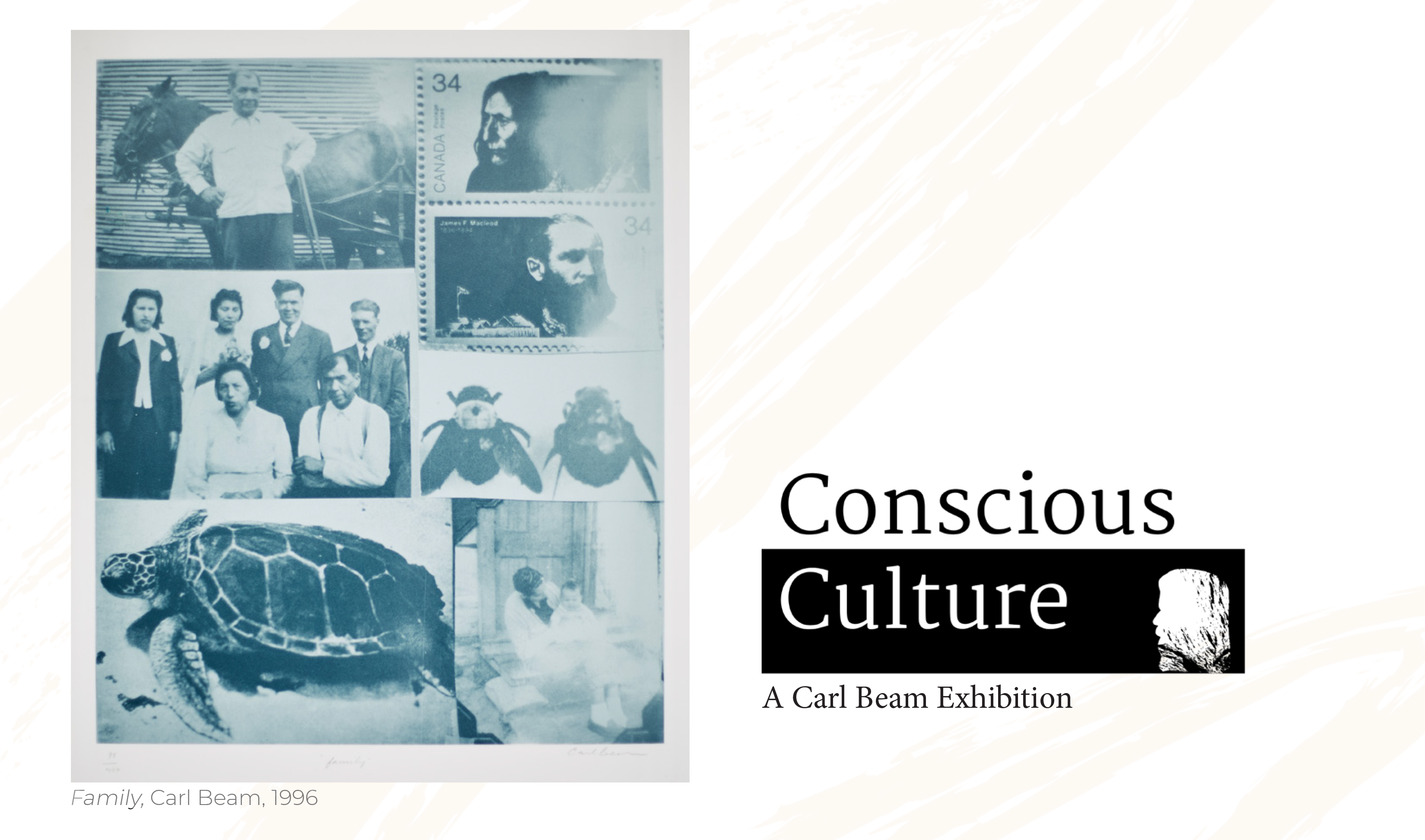 Conscious Culture: A Carl Beam Exhibition showcases twelve silkscreen prints from Sheridan's permanent collection. The artworks come from two related bodies of work, created between the turn of the 21st century and the time of the artist's passing. The two collections, The Whale of Our Being and Crossroads, share common themes of cultural identity, self-examination, and a departure from the natural world. The imagery in the prints ranges from pop culture icons to more personal accounts of Indigenous culture, which are informed by Beam's relationship to both Euro-American and Ojibwe perspectives.
Carl Beam's use of photo-collage, screen process, and mixed media techniques complements his characteristic juxtaposition of contrasting ideas and materiality. Prints such as
Madonna
and
Boxer
, for example, bring together pop art aesthetics and Indigenous imagery. At the same time,
Family
features photographs of Beam's biological family alongside historical figures, a turtle, and entomological specimens of bees.
Although deeply influenced by the autobiographical, the prints on display here also highlight universal concepts such as internal conflict and human impact – aspects of daily life that transcend individual experience.
To take a Virtual Tour and for more interactive 360° Panoramas, please visit the
Virtual Gallery
---
Conscious Culture: A Carl Beam Exhibition
is curated by Monina Lamentac and Cassidy Roylance (Honours Bachelor of Interior Design, 2021) as part of the Creative Campus Galleries' Summer 2020 Co-op placement in Exhibition Design. During the semester-long internship, Lamentac and Roylance had the opportunity to work closely with the Creative Campus Galleries' permanent art collection and gain professional experience developing all aspects of an exhibition, from collection research through to the design of a virtual exhibition space.
---
Conscious Culture: A Carl Beam Exhibition
was created in collaboration with the Centre for Indigenous Learning and Support and Sheridan's Library and Learning Services.

Browse Conscious Culture: A Carl Beam Exhibition Collection:
Biography and Collections Information