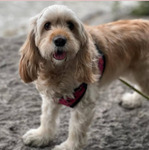 Document Type
Short Story
Story
I am going to tell you how my daughter and I brought our dog Mocca with us to Canada. Mocca is my daughter's dog, and they love each other very much. Before leaving our country, Egypt, we wondered what would happen if we left Mocca there with someone else. But Mocca used to eat from my daughter's hand, so we thought, "If we leave her with anyone, maybe she will die."
A month before our departure, we ensured that we had all the travel documents we needed for Mocca. The day we flew to Canada, we brought her vaccine records and all the other paperwork the airline had asked for. After we landed in Toronto, we wanted to exit the airport, so we searched around us for what to do and where to go. First, we took our bags from the luggage area and we found our dog in her cage, so we took care of her. She looked very tired, and we too felt very tired after the long trip, which took around 12 hours. We searched where we could have our passports stamped before we could exit the airport, and we came across a long line. The airport has a lot of machines where you scan your passport and you must answer a lot of questions by checking yes or no. If you have any banned item, you must get permission from the officer. We read all the questions, which asked if we had food, if we had different kinds of seeds, if we had any sharp objects like a knife or scissors, if we had any liquids... We didn't have any of those things, just our clothes, so when we read the questions, I told my daughter to answer no to all of them. The machine scanned our passports and gave us a receipt. We found an officer and asked him where to exit. He looked at us and said, "Go to this room." We were very worried and wondered why he asked us to go to the room, what did we do? So, we went to this room, and he came in after maybe 10 or 15 minutes.
"So, you don't have anything with you?" He asked us.
"No, we don't," we replied.
"What are you talking about, don't you have a dog?"
"Of course we have a dog, you see we have her cage – it's a big cage, and the dog is not young. It's a big dog, we can't hide her."
"So why did you answer no to all the questions? You see there is a clear question asking if you have an animal," he blamed us.
My daughter and I said, "We didn't see this, we read all the questions quickly. We haven't brought anything except for our dog and our clothes."
The officer sensed we were not lying but still gave us a $300 fine. We paid the fine and learned the lesson to read every single word to make sure we give the right answer and do not lie – because we don't want to lie. Now I tell everyone to read every question very carefully.
Keywords
stories of home, memories, turning points
Creative Commons License


This work is licensed under a Creative Commons Attribution-Noncommercial-No Derivative Works 4.0 License.
SOURCE Citation
Morcos, Gihan, "Bringing Mocca to Canada" (2023). Memories and Turning Points. 13.
https://source.sheridancollege.ca/centres_sgg_2023_stories_of_home_os_memories/13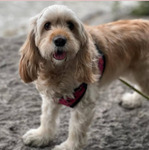 COinS