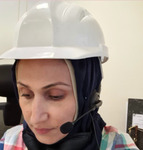 Document Type
Short Story
Story
Rana, originally from Mosul, Iraq, is currently an ESL student at Sheridan College. She immigrated to Canada from the UAE in 2022. Both Rana and her spouse are architectural engineers, and they lived in Dubai for more than 16 years. Rana is a proud mother of three daughters and enjoys a happy life with them and their cat.
The story of Louie
Rana Hasan
We got our cat Louie in Dubai when he was only 40 days old. Even though he was pretty small, he was naughty and would meow in the middle of the night and would wake us all up. He required a lot of attention, and at times we thought we couldn't take so much responsibility – and the more he grew, the more our responsibility increased.
When Louie finally became an adult cat, we were told that we needed to take him for vaccination to keep him healthy and safe. He was really frightened and was shaking when he got his first vaccine. He was scared for his second vaccine, too, but not as badly as the first time. Then we took him for grooming as a treat, but he was terrified again!
Despite this, Louie is a really friendly, sweet cat who loves sleeping, treats and toys, and we care about him so much.
In January 2022 we were getting ready to leave Dubai and start a new chapter in Canada. We were so happy when we found a way to get tickets for all of us, including Louie. However, on February 18 we got a call saying that our cat would not be able to travel to Canada. This was the worst day and the worst news: hearing that Louie could not come with us and we would never see him again. My family and I cried, and we called the airport many times, but none of the people we spoke with could help us. So, a week before leaving for Canada, my daughter and I decided to get Louie and go to the airport. We pleaded that we really wanted our cat to come with us, that we couldn't leave him alone because we loved him so much. Finally, after a couple of hours, we got the best news: the decision we would be able to take him with us to Canada, after all. We were so happy to hear that.
Louie was really scared when we got on the plane, but I petted him, and he calmed down and slept. When we arrived to our new house in Canada, he was shocked and worried. He hid in random spots and he couldn't eat or sleep. After two days he finally got used to the house and started to feel comfortable. On November 28, 2022, we bought a new house, which was another big change for Louie. This time it took him only a day to get used to our new home and to play with his toys and eat well again. Now he is a very happy cat, and he has made friends with some squirrels in the backyard.
Keywords
stories of home, memories, turning points
Creative Commons License


This work is licensed under a Creative Commons Attribution-Noncommercial-No Derivative Works 4.0 License.
SOURCE Citation
Hasan, Rana, "Mosul-Dubai-Mississauga Triangle" (2023). Memories and Turning Points. 2.
https://source.sheridancollege.ca/centres_sgg_2023_stories_of_home_os_memories/2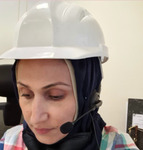 COinS