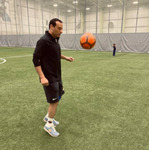 Document Type
Short Story
Story
Striving for perfection
Back home, you have to study six years in elementary school, three years in secondary school, and three years in high school to qualify for universities. In the last year of high school, you have to make more effort to gain some benefits. One of those benefits is to be put in the outstanding students' class, which has 50% fewer students than other classes. This will give you more chances and room to gain more information and discussions with teachers without any distractions.
In 1990, I was in my last year of high school. I was waiting for the results of my exams that would determine which university I would go to. The Ministry of Education announced that the 12th of July was when they would release the results. On the 10th of July, I was in my soccer training session. While I was training, I saw my mother on the side lines. I was very surprised to see her. I didn't used to see her there. A lot of negative thoughts came to my mind. My coach called me and said I had two minutes to talk to my mom.
I went over and asked what was going on. She said, "I have good news. I managed to get your results early from the school administration. You got a 90%." She thought I would be happy, but I wasn't. I said, "Something wrong happened. I have put a lot of effort and you know that. I was expecting 95% or above."
Later, after I finished my training session, and while my mother was driving me home, I politely said, "There are two days left. Why didn't you have the patience to wait?"
When I got home, I decided I would not speak with anyone. I was trying to accept the results. I was pretending that everything would be ok. I was actually counting down every single minute to the official results. Something inside was telling me that I deserved more and I would get more.
On July 12th at one thirty in the afternoon, I was watching TV in the living room. I heard our landline phone ringing, and I heard my mom say, "Really? He did it?" I ran out of the living room. I asked what happened. She said, "It's my mistake. You got 97.2%. You were right."
I was over the moon. My mood changed in a minute.
I have learned this lesson in my life. If you have a plan, or if you have a target, study the input, analyze it, set a plan, stick to it, execute it, and monitor the results. Repeat again and again. A target without a plan is only a wish.
The day of the final
It was an amazing sunny day. Despite it being a little cold, the stadium was full of supporters, our team's flags everywhere, our names on panels in each corner. The fans were cheering the players on. My parents were among them. As team captain, the fans and my team players trusted me, and the responsibility was upon me to win. We were in the final soccer match in the league after three years of failing to qualify for the finals. We were well-prepared and organized for this fight. "To be or not to be."
The match started. We created a lot of chances. I succeeded in scoring a goal. The clock was ticking, only five minutes remaining to raise the trophy. While I was dribbling the ball, one player from the other team tackled me. I immediately felt severe knee pain. The team doctor diagnosed me with a total tear in the meniscus. The crew transferred me to the hospital, and an operation took place on the same day.
After I went out of the operation room, my feelings were mixed, happy because the dream came true and it was me who scored the winning goal, sad because I would not take part in the next competition. Normally, it takes six months to recover, but my target was to recover in three months only.
I started the physiotherapy sessions, and simultaneously, I signed a contract with a private trainer. I agreed with her to make me fit in three months. With determination and strong will, I was able to participate in the following big competition.
If you have a goal, you must fight for it.
Keywords
stories of home, memories, turning points
Copyright
© Mohamed AbdelGhaffar
Creative Commons License


This work is licensed under a Creative Commons Attribution-Noncommercial-No Derivative Works 4.0 License.
SOURCE Citation
AbdelGhaffar, Mohamed, "Two Stories of Strength" (2023). Memories and Turning Points. 3.
https://source.sheridancollege.ca/centres_sgg_2023_stories_of_home_os_memories/3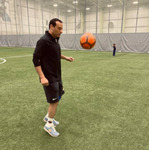 COinS