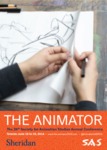 Description
The 2014 Society for Animation Studies conference hosted by Sheridan College was from June 16 - 19, 2014. As Animation Studies continues to develop as a discipline, the dialogue that has opened up between more traditional academic research into the field and what we might call 'industry-facing' or applied research has become more important. The critical study of animation from within higher education institutions like Sheridan represents one of the many areas in which the industry can grow. Every SAS conference has its own distinct tone and flavour because we are truly international in our membership and we devolve conference organization annually to the host institution. This means that this year's conference is strongly allied to Sheridan's industry focus – not least with Corus warmly welcoming conference goers to their HQ for parts of the conference.
SAS provides such a welcoming environment for new members, and a terrific forum to discuss animation from a multitude of perspectives. It is within this fertile and nurturing atmosphere that we decided to focus our conference on the animation artist. As a tribute to all artists whose efforts fuel our work, and in the spirit of the centenary of celebrated National Film Board of Canada animator, Norman McLaren, the 2014 SAS Conference is named "The Animator".
Keynote speakers included
Scott Dyer, Executive Vice President, Strategic Planning and Chief Technology Officer, Corus Entertainment
Charile Bonifacio, Animator, Arc Productions Ltd, Canada
Professor Paul Wells, Director of the Animation Academy Loughborough University, UK
Michael Fukushima, Executive Producer of NFB's English Animation Studio National Film Board of Canada
Panel Discussions
McLaren Legacy Panel: The Centenary Year - Nichola Dobson, Terence Dobson, Kaj Pindal
Stop Motion, From Local Community Members - Chris Walsh, Bret Long, Nora Keely, Mark Mayerson
Conference Twitter account: @AnimatorSAS2014
Publication Date
6-16-2014
Keywords
animation, conference, society for animation studies annual conference, Sheridan, Corus Entertainment, animated films, stop-motion, computer animation, 3D animation, Toronto Animation Arts Festival International
Disciplines
Film and Media Studies
Funder
Sponsored by Corus Entertainment, Wacom, and Sheridan Alumni.
Creative Commons License

This work is licensed under a Creative Commons Attribution-Noncommercial-No Derivative Works 4.0 License.
SOURCE Citation
Society for Animation Studies; Ward, Paul; and Tarantini, Tony, "The Animator: The 26th Society for Animation Studies Annual Conference Toronto June 16 to 19, 2014" (2014). The Animator. 1.
https://source.sheridancollege.ca/conferences_anim/1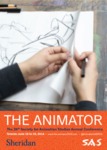 Included in
COinS