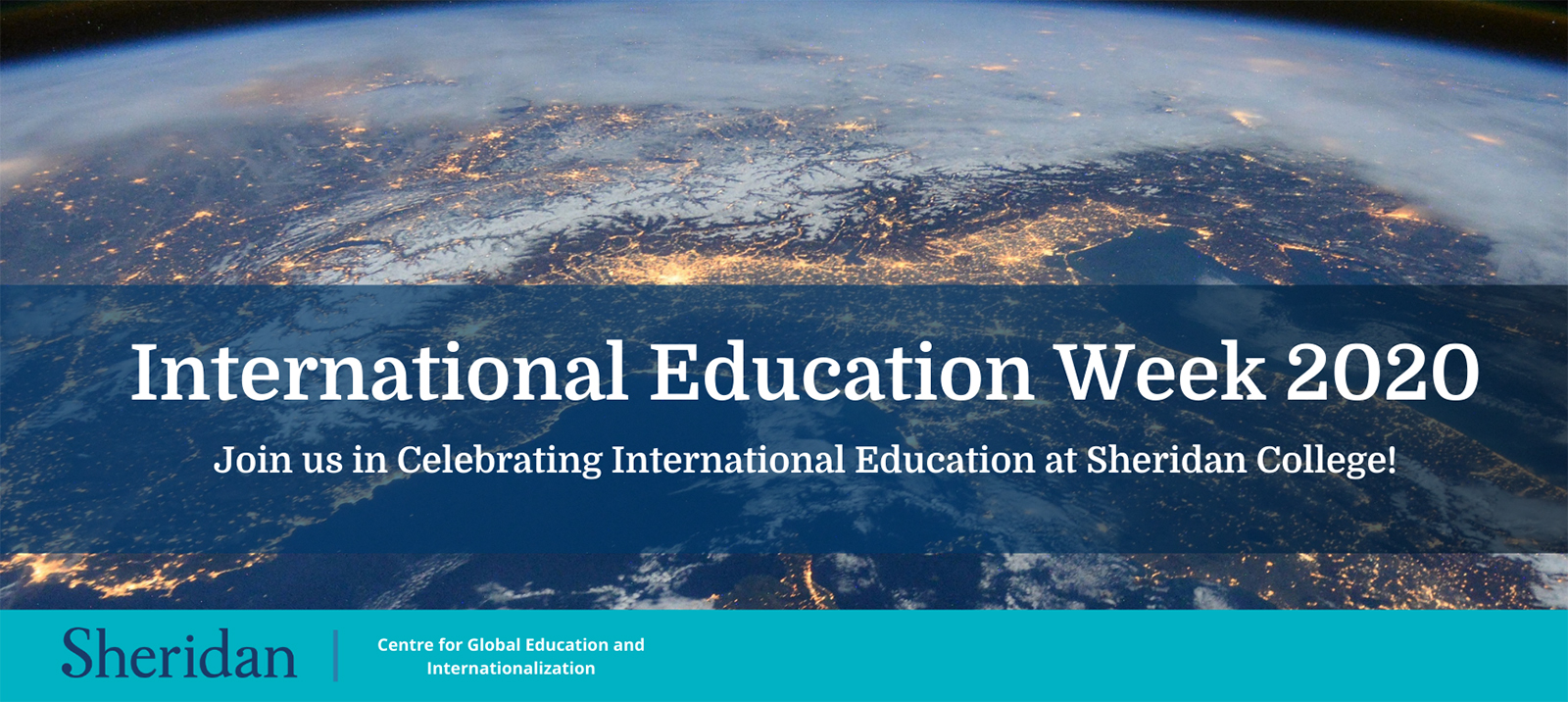 Every year since 2001, individuals, schools, colleges, universities, businesses, and governments all around the world have been celebrating the International Education Week during the third week of November. This week marks a chance for institutions around the world to celebrate, promote and discuss the importance of international and global education and serves as a catalyst for building understanding and collaboration across and between institutions.

The Centre for Global Education and Internationalization (CGEI) at Sheridan hosted a series of webinars to celebrate international education; raise awareness and share knowledge and experiences; rethink our practices; and mobilize forces to contribute for a more and sustainable and equitable world through international education. These webinars offer an opportunity for our community to engage with renowned national and international experts, scholars, and practitioners.
Printing is not supported at the primary Gallery Thumbnail page. Please first navigate to a specific Image before printing.
Charles Hopkins, Denise Amyot, John Helliker, and Herbert Sinnock

The United Nations Sustainable Development Goals serve as a useful framework to address global challenges through developing knowledge, skills, competencies, and partnerships. How can colleges and Institutes', and higher education institutions in general, engagement with the UN SDGs inform and broaden the scope and thematic focus of their internationalization and global engagement whether through research, pedagogy, and community/industry partnerships? This webinar aims to discuss emerging practices to embed the UN SDGs into internationalization efforts of postsecondary education institutions.

Speakers:

Charles Hopkins, UNESCO Chair in Reorienting Education towards Sustainability at York University, Faculty of Education
Denise Amyot, President and CEO of Colleges and Institutes Canada (CICAN)
John Helliker, Dean, Innovation, Sheridan
Beth Eden, Youth Representative for UN Sustainable Development Solutions Network - Youth Initiative

Moderated by Herbert Sinnock, Director of Sustainability, Sheridan.

Elspeth Jones, Roopa Desai, Sonja Knutson, Janey Lew, and Jane Ngobia

Inclusive internationalization, as defined by the International Association of Universities, means integrating key concepts of equity, cultural diversity, social responsiveness, and mutual benefits in internationalization at education institutions. In a world divided by increased nationalism, racism, and populism, what role do postsecondary institutions play through inclusive internationalization in building bridges, connecting the local with the global, disrupting social inequalities, and collaboratively solving complex global issues.

Speakers:

Elspeth Jones, Emerita Professor of the Internationalization of Higher Education at Leeds Beckett University
Roopa Desai Trilokekar, Associate Professor, Faculty of Education at York University
Sonja Knutson, Director of the Internationalization Office at Memorial University of Newfoundland
Janey Lew, Senior Educational Consultant, Indigenous Initiatives at University of British Columbia

Moderated by: Jane Ngobia, Vice President of Inclusive Communities, Sheridan

Jon Rubin, Eva Haug, Osvaldo Succi, and Amira El Masri

COIL is a project-based methodology for providing students with collaboratively developed, co-taught intercultural learning experiences. It connects two (or more) classrooms across the globe virtually where two course instructors collaborate in offering a course, or a module within a course, and students from the two institutions work on collaborative projects. COIL extends authentic opportunities for intercultural and transnational learning to students within the curriculum of college classrooms. Through co-developed and co-taught modules, COIL supports the development of 21st century workforce skills and provides opportunities for applied learning experiences. This webinar will guide you through an introduction to Collaborative Online International Learning (COIL). A panel of COIL experts will discuss: What and why COIL, how to get started, and share successful COIL experiences.

Speakers:

Jon Rubin, COIL Consultant
Eva Haug, Internationalization Coordinator at Amsterdam University of Applied Sciences
Osvaldo Succi, Virtual Exchange Coordinator at Centro Paula Souza, CESU

Moderated by Amira El Masri, Director of the Center for Global Education and Internationalization at Sheridan.