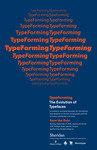 Files
Description
An international panel of type and design experts gathered at Sheridan on September 21, 2015 to talk about the form of typography and how its history contributes to its future. The panelists were Matthew Carter, Rod McDonald, Allan Haley and Charles Nix of Monotype.
The discussion followed an exhibition and world premiere screening of a digitized and expanded film by Carl Dair, who designed Cartier – Canada's first Latin typeface.The film, Carl Dair at Enschedé: The Last Days of Metal Type features a digitized version of the 1957 silent film shot by Dair while studying in Holland with one of the last great European letter punch cutters, Paul Rädisch. It begins with a prologue by Canadian type designer Rod McDonald, who in 1998, updated and expanded Dair's Cartier typeface for digital technology. The film is narrated by Matthew Carter, one of the world's leading typeface designers who also studied with Rädisch. The film was co-produced by Sheridan College and Massey College at the University of Toronto.
The exhibit in the Sheridan Art Gallery, opened prior to the film screening, included artifacts such as didactic panels, photographs, sketches, tools, letters and books. It told the story of Carl Dair's quest to create Canada's first Latin typeface as part of the 1967 centennial as well as Rod McDonald's redesign.
The panel discussion was part of Sheridan's Creative Campus Series.
Publication Date
9-21-2015
Keywords
Carl Dair, typography, Carl Dair fiilm Enschedé, Matthew Carter, Rod McDonald, Allan Haley, Charles Nix, Sheridan College, Sheridan, Creative Campus
Disciplines
Book and Paper | Graphic Design
Creative Commons License


This work is licensed under a Creative Commons Attribution-Noncommercial-No Derivative Works 4.0 License.
SOURCE Citation
Sheridan Library and Learning Services and Sheridan Faculty of Animation, Arts & Design, "TypeForming: the Evolution of Typefaces" (2015). 2015 Creative Campus Series. 3.
https://source.sheridancollege.ca/creative_campus_event/3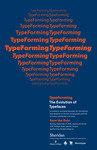 Included in
COinS
View Images