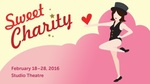 Description
Experience the bold and colourful world of 1960s New York through the eyes of Charity Hope Valentine. The dance hall hostess dreams of a brighter future but she can't help but give her heart to all the wrong guys. Then she meets the meek but sweet Oscar Lindquist when they get trapped in an elevator. Could he be the man to change Charity's luck and take her off the market as a heart-for-hire? Cy Coleman and Dorothy Fields' bright music and dance numbers like 'Big Spender' and 'If My Friends Could See Me Now,' paired with a book by Neil Simon made this Broadway a hit when it premiered in 1966.
Director: Sheila McCarthy
Musical Director: Stephen Woodjetts
Publication Date
2-18-2016
Production Year
2015/2016
Theatre Location
Studio Theatre, Sheridan
Cast
Ensemble: Dean Deffett Rosie
Ensemble: Fay Gamliel
Ensemble: Jonathan Gysbers
Ursula, Ensemble: Nicola Hadjis
Carmen, Ensemble: Arinea Hermans
Vittorio Vidal: Tristan Hernandez
Oscar: Jordan Kenny
Ensemble: Madelyn Kriese
Frenchie, Ensemble: Hailey Lewis
Helene: Blaire Lorrison
Daddy Brubeck: Nestor Lozano Jr.
Betsy, Ensemble: Kate Madden
Herman: Elijah Manalo
Charlie, Ensemble: Jean-Paul Parker
Elaine, Ensemble: Gillan Reed
Ensemble: Ainsley Roy
Ensemble: Kirstyn Russelle
Ensemble: Polly Summerhayes
Ensemble: Gavin Tessier
Charity: Amanda Trapp
Nickie: Jessica Watters
Keywords
Sweet Charity, Theatre Sheridan
Disciplines
Theatre and Performance Studies
Faculty
Faculty of Animation, Arts & Design
School
Department of Visual and Performing Arts
Creative Commons License


This work is licensed under a Creative Commons Attribution-Noncommercial-No Derivative Works 4.0 License.
SOURCE Citation
Theatre Sheridan, "Sweet Charity, February 18 - 28, 2016" (2016). Theatre Sheridan Productions. 10.
https://source.sheridancollege.ca/faad_visu_uniq_theatre/10
Original Citation
McCarthy, S. (Director). (2016, February 18 – 28). Sweet charity. [Theatre Performance]. Oakville: Theatre Sheridan.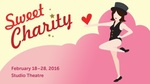 Included in
COinS