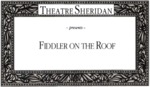 Description
There are only a handful of musicals that have as universal an appeal as Fiddler On The Roof. Since its New York premiere in 1962, it has been toured to over 60 countries and has been viewed by more than 45 million people. In their musical about the Jewish dairyman in pre-revolutionary Russia, Joseph Stein, Sheldon Harnick and Jerry Bock have managed to capture an essence of life with which we can all identify - the delicate balance between joy and sorrow. It is our sincere hope that this production entertains, moves, and enlightens you as much as it has us.
Director: Greg Peterson
Choreographer: Richard Sugarman
Musical Director: Greg Andrews, Alan Poaps
Publication Date
11-14-1990
Production Year
1990/1991
Theatre Location
Sheridan Hall, Sheridan
Cast
The Fathers
Tevye, the dairyman: Sean Doyle
lazar wolf, the butcher: David Paul
Mordcha, The Innkeeper: Shawn Daudlin
Avram, The Bookseller: Peter Fleming
Shmuel, The Shoemaker: Jason Barbeck

The Mothers
Golde, Tevye's Wife: Arlene Turner
Shaindel, Motel's Mother: Lorna Hazen
Seamcha, The Shoemaker's Wife: Shanna U'ren
Mirala, The Bookseller's Wife: Angela Binnie
Leah, The Widow: Paige Tuddenham
Ester, The Innkeeper's Wife: Carole Mackereth

The Sons
Motel, The Tailor: Rob Iseman
Perchik, The Student: Geoff Tyler
Mendel, The Rabbi's Son: Scott Bloxom
Yaakov, The Bagel Seller: Michael Kerr

The Daughters
Tzeitle, The Dairyman's Eldest Daughter: Shelley Simester
Hodel, The Dairyman's Daughter: Meredith Palmer
Chava, The Dairyman's Daughter: Jennifer Cook
Shprintze, The Dairyman's Daughter: Jennifer Magee
Bielke, The Dairyman's Youngest Daughter: Deanna Overland
Ruche!, The Shoemaker's Daughter: Alex Burns

The Special Types
Yente, The Matchmaker: Anne Marie Massicotte
Nahum, The Beggar: Kent Schenk
The Rabbi: Joel Freedman
Grandmother Tzeitle: Paige Tuddenham
The Voice Of Fruma Sarah: Paige Tuddenham
The Fiddler: Dwayne Adams

The Others
The Priest: Carole Mackereth
The Constable: Philip Wallace
Fyedka: Brent Wees
Volodya: Jason Barbeck
Sasha: Kent Schenk
Keywords
Fiddler on the Roof, Theatre Sheridan, musical theatre
Disciplines
Theatre and Performance Studies
Faculty
Faculty of Animation, Arts & Design
School
Department of Visual and Performing Arts
Creative Commons License


This work is licensed under a Creative Commons Attribution-Noncommercial-No Derivative Works 4.0 License.
SOURCE Citation
Theatre Sheridan, "Fiddler on the Roof, November 14 – December 1, 1990" (1990). Theatre Sheridan Productions. 120.
https://source.sheridancollege.ca/faad_visu_uniq_theatre/120
Original Citation
Peterson, G. (Director). (1990, November 14 – December 1). Fiddler on the roof [Theatre Performance]. Oakville: Theatre Sheridan.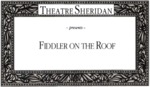 Included in
COinS