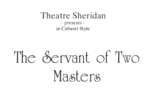 Description
An Italian comedy based on Goldoni's classic comedy in which a fiancé, Federigo Rasponi, comes back from the dead to be reunited with Clarice who is in the process of marrying her true love. The fiancé, is Federigo's sister in disguise, who is plotting vengeance for her brother and trying to find her love as well. The servant of Federigo's sister, Truffaldino, takes center stage in an effort to increase his wages and his meals he takes on two masters at once.
Commedia Dell'Arte, which means "Comedy of Skill", is a very old form of popular theatre which has roots going back to the early Etruscan civilization in Italy. It is an improvisational comedy -- that is, instead of working from a written text commedia actors worked from a scenario or plot outline. They improvised the dialogue and stage business which made up the body of the play. Although Goldoni's "The Servant of Two Masters" is a complete play, we decided to revive the old commedia style. We reduced the play to a plot outline, and the actors "made up" all the dialogue and comic business you will see tonight. The actors are constantly finding new business while discarding old. At any given show the audience could see and hear things which are invented for the first time at that show. Commedia is the immediacy of theatre in action.
Story by Carlo Goldoni
Director: Christopher Covert
Publication Date
11-22-1989
Production Year
1989/1990
Theatre Location
Studio Theatre, Sheridan
Cast
The Masks
Truffaldino: Liam Patrick
Pantalone: Geoff Tyler
Il Dottore: Robert Iseman
Brighella: Matthew C. Saliba
Smeraldina: Shelley Simester

The Lovers
Clarice: Shawna Lance
Silvio: Martin Knauer
Beatrice: Jennifer Fagan
Florindo: Christopher Furlong

The Zanni
Men
Patalone: Geoff Tyler
Dottore: Robert Iseman
Silvio: Martin Knauer
Florindo: Christopher Furlong
Brighella: Matthew C. Saliba
Truffaldino: Liam Patrick

Women
Clarice: Shawna Lance
Beatrice: Jennifer Fagan
Smeraldina: Shelley Simester

Zanni
First: Kent Schenk
Second: Rodney Freake
Third: Anthony Tullo
Fourth: Keith Park
Keywords
The Servant of Two Masters, Comedy of Skill, Commedia Dell'Arte, Theatre Sheridan, musical theatre
Disciplines
Theatre and Performance Studies
Faculty
Faculty of Animation, Arts & Design
School
Department of Visual and Performing Arts
Creative Commons License


This work is licensed under a Creative Commons Attribution-Noncommercial-No Derivative Works 4.0 License.
SOURCE Citation
Theatre Sheridan, "The Servant of Two Masters, November 22 – December 9, 1989" (1989). Theatre Sheridan Productions. 123.
https://source.sheridancollege.ca/faad_visu_uniq_theatre/123
Original Citation
Covert, C. (Director). (1989, November 22 - December 9). The servant of two masters [Theatre Performance]. Oakville: Theatre Sheridan.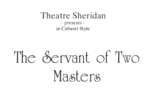 Included in
COinS