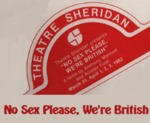 No Sex Please, We're British, March 31 – April 3, 1982
Description
A British farce about a young bride who sends off a mail order for Scandinavian glassware and ends up with Scandinavian pornography and the way in which her assistant bank manager husband, his mother, his boss, a visiting bank inspector, a police superintendent, and a useless but well-meaning friend react are explored in this comedy.
A farce by Anthony Marriott and Alistair Foot.
Director: Bryan Foster
This paper has been withdrawn.