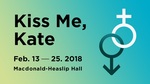 Description
Welcome backstage to witness the rollicking world of theatre as a company is preparing for their production of The Taming of the Shrew. Cole Porter has partnered with Shakespeare to create one of the most raucous, rowdy and enduring romances of all time for the stage. Not to be missed…KISS ME, KATE will leave you feeling "WUNDERBAR'!
Music and lyrics by Cole Porter. Book by Sam and Bella Spewack.
Director: Ann Hodges
Choreographer: Stephanie Graham
Musical Director: Jeannie Wyse
Publication Date
2-13-2018
Production Year
2017/2018
Theatre Location
Macdonald-Heaslip Hall, Sheridan
Catalogue Link
Harry Trevor, Baptista: Malindi Ayienga
Ruth (Stage Manager): Hailey Balaz
Stagehand, Donkey: Noah Beemer
Flyman, Stagehand: Zachary Colangelo
Fred Graham, Petruchio: Eudes La Roche-Francoeur
Stagehand, General Howell: Thomas Goetz
Flyman, Stagehand: William Lincoln-Gouett
Gremio: Josh Graetz
Flynt: Sierra Holder
Stagehand, Donkey: Graeme Hugo
Assistant Stage Manager: Phoenix Mackenzie
Lilli Vanessi, Kate: Savannah Maxwell
Wardrobe Lady: Cassandra McCarthy
Bill Calhoun, Lucentio: Kevin McLachlan
Riley: Caitlin McMaster
Lois, Bianca: Lindsay Rolland Mills
Pops the Stagedoor man: Greg Moreau
Hortensio: Tyler Pearse
Stagehand: Tevra Plamondon
Hattie: Emily Robertson
Taxi Driver: Nicolas Sampedro-Sillmann
Paul: Stephen Thakkar
First Man: Lauren Thomson
Second Man: Braeden Woods

Ensemble: Dharma Bizier, Jessica Burrett, Meghan Caine, Rohan Dhupar, Julia Dunne, Jill Goranson, Griffin Hewitt, Sierra Holder, Isidora Kecman, Greg Liow, Alexa MacDougall, Melissa MacKenzie, Katie Martin, Caitlin McMaster, Tevra Plamondon, Juliette Pomeroy, Nathan Sartore, Jacob Sheffield, Amanda Silcoff, Nicolas Sampedro-Sillmann, Joshua Warren
Keywords
Kiss Me Kate, Taming of the Shrew, Shakespeare, Theatre Sheridan, musical theatre
Disciplines
Theatre and Performance Studies
Faculty
Faculty of Animation, Arts & Design
School
Department of Visual and Performing Arts
Creative Commons License


This work is licensed under a Creative Commons Attribution-Noncommercial-No Derivative Works 4.0 License.
SOURCE Citation
Theatre Sheridan, "Kiss Me Kate, February 13 – 25, 2018" (2018). Theatre Sheridan Productions. 166.
https://source.sheridancollege.ca/faad_visu_uniq_theatre/166
Original Citation
Hodges, A. (Director). (2018, February 13 – 25). Kiss me, Kate [Theatre Performance]. Oakville: Theatre Sheridan.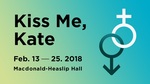 Included in
COinS