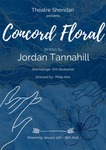 Description
Concord Floral was first produced in 2014 by Suburban Beast and presented by Why Not Theatre at the Theatre Centre (Toronto, ON). It was written by Jordan Tannahill and developed over a three-year period with Erin Brubacher, Cara Spooner and a group of teenagers from across the Greater Toronto Area. The original production was created and directed by Erin Brubacher, Cara Spooner, and Jordan Tannahill.
Director: Philip Akin*
Publication Date
1-12-2022
Theatre Location
Studio Theatre, Sheridan
Cast
Marco DeLuca: Just Joey
Jeremy Foot: John Cabot
Emi Gusdal: Forever Irene
Lily Librach: Green house
Caitlyn MacInnis: Rosa Mundy
Jillian Perkins: Couch
Ali Powell: Nearly Wild
Aiden Reimer: Bobolink
Freya Scerri Diacono: Bobbie James
Mirabella Sundar Singh: Fox
Keywords
Concord Floral, Sheridan, Musical Theatre
Disciplines
Theatre and Performance Studies
Faculty
Faculty of Animation, Arts & Design
Creative Commons License


This work is licensed under a Creative Commons Attribution-Noncommercial-No Derivative Works 4.0 License.
SOURCE Citation
Theatre Sheridan, "Concord Floral, January 12-16, 2022" (2022). Theatre Sheridan Productions. 188.
https://source.sheridancollege.ca/faad_visu_uniq_theatre/188
Original Citation
Akin, P. (Director), (2022, January 12-16). Concord Floral. [Theatre Performance]. Oakville: Theatre Floral.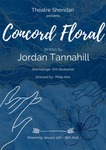 Included in
COinS