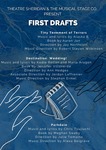 Parkdale
Description
Welcome to 110 Parkdale Ave, the last subsidized low rise building in the neighbourhood. It's special, but you can't tell that from the outside. The building is far from perfect, but for the tenants who occupy its cracked walls and uneven floors, it's home. When the tenants are faced with an eviction notice, they (reluctantly) step out of their bubbles to band together as a community in order to save their homes.
Director: Julie Tomaino
Writer: Meghan Swaby
Writer: Chris Tsujiuchi
Music: Alexa Belgrave
This paper has been withdrawn.