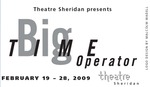 Files
Description
In this Big-Band fantasy, womanizing nightclub singer Flash discovers that he is the father of a seven-year-old boy whose mother has recently passed away. What happens when this unwitting parent introduces his shy but astoundingly astute son to the colourful denizens of the Voodoo Lounge? Will the boy be corrupted by Flash's wild decadence or will Flash be forever changed by the responsibilities of family?
Music & lyrics by Big Bad Voodoo Daddy. Additional music by Steve Thomas, Michael Walmsley, Chris Tsujiuchi. Additional lyrics by Adam Brazier. Book by Adam Brazier
Director: Phillip Nero
Choreographer: Phillip Nero
Musical Director: Michael Walmsley
Publication Date
2-19-2009
Production Year
2008/2009
Theatre Location
Studio Theatre, Sheridan
Cast
Flash: David Cotton
Linda: Christa Clahane
Junior: Nate Wilson, Kieran McNally-Kennedy
Pinstripe: Jonathan Logan
Charlene: Stacey Bulmer
Mayor Carlucci: Pako Arizmendi
Frank: Alex Fiddes
Judge Wolfe: Chris Tsujiuchi
Principle: AJ Stewart
Guard: Cameron Carver
Social Worker: Allison Edwards-Crewe
Stan: Constant Bernard
Louis: Jeremy Wells
Lefty: Cody Lancaster
Vinnie: Matt Villeneuve
Muffy: Tess Benger
Café Waitress/Mary: Rebecca Peters
Taps: Hayley Blyth
Cigarette/Social Worker: Allison Edwards-Crewe
Cigerello/Connie: Shannon Coulter
Val: Bethany Kovarik
The Lip: Jordy Rolfe
Bambi: Jacoueline Burtney
Doorman: Andrew Broderick
Slide: Jade Padua

Ensemble
Tess Benger, Jacqueline Burtney, Rebecca Peters, Alexandra Herzog, Bethany Krovarik, Cameron Carver, Travis Seetoo, Chris Tsujiuchi, Andrew Broderick, AJ Stewart, Anthony MacPherson

Prisoners
Andrew Broderick, Anthony MacPherson, Travis Seetoo, Chris Tsujiuchi, AJ Stewart

Who's That Creeping Chorus
Stacey Bulmer, Bethany Kovarik, Alexandra Herzog, Rebecca Peters, Shannon Coulter
Keywords
Big Time Operator, Theatre Sheridan, musical theatre
Disciplines
Theatre and Performance Studies
Faculty
Faculty of Animation, Arts & Design
School
Department of Visual and Performing Arts
Creative Commons License


This work is licensed under a Creative Commons Attribution-Noncommercial-No Derivative Works 4.0 License.
SOURCE Citation
Theatre Sheridan, "Big Time Operator, February 19 – 28, 2009" (2009). Theatre Sheridan Productions. 36.
https://source.sheridancollege.ca/faad_visu_uniq_theatre/36
Original Citation
Nero, P. (Director). (2009, February 19 – 28). Big time operator. [Theatre Performance]. Oakville: Theatre Sheridan.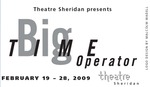 Included in
COinS