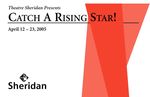 Description
Catch a Rising Star showcased the 3rd year Performance Critiques and the 2nd year Dance Critiques, as a true collaboration of creativity. As part of their curriculum, each student was assigned the task of creating a showcase for their singing and dancing talents. For Catch a Rising Star, the Directors have taken the best of the best and created this extraordinary unique show, full of diverse musical styles and dances.
Directors & Choreographers: Stephen Greig & Marc Richard
Musical Director: Dafydd Hughes
Publication Date
4-12-2005
Production Year
2004/2005
Theatre Location
Sheridan Hall, Sheridan
Cast
Andria Angelosante
Kristen Psiuk
Romina D'Ugo
Tanya Columbus
Kirstin Howell
Leslie Muir
Jonathan Muzlera
Erin Pim
Katherine Stefankiewicz
Zachary Hutton
Delna Mody
Adriano Burgo
Justin Ruttan
Brent Thiessen
Rhoslynne Bugay
Janna Polzin
Byron Flores
Suzie Hermary
Jennifer Walls
Michael Hughes
Stephen Roberts
Daniel Abrahamson
Adele Campbell
Lindsay Erin Burke
Lindsey Frazier
Erin Lemieux
Laura Bonesteel
Lauren Busteed
Danielle Getz
Kier Loney
Ashley Carter
Melanie O'Brien
Andrew McGillivray
Keywords
Catch a Rising Star, Theatre Sheridan, musical theatre
Disciplines
Theatre and Performance Studies
Faculty
Faculty of Animation, Arts & Design
School
Department of Visual and Performing Arts
Creative Commons License


This work is licensed under a Creative Commons Attribution-Noncommercial-No Derivative Works 4.0 License.
SOURCE Citation
Theatre Sheridan, "Catch a Rising Star, April 12 – 23, 2005" (2005). Theatre Sheridan Productions. 50.
https://source.sheridancollege.ca/faad_visu_uniq_theatre/50
Original Citation
Greig, S., & Richard, M. (Directors). (2005, April 12 – 23). Catch a rising star. [Theatre Performance]. Oakville: Theatre Sheridan.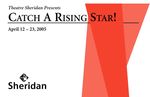 Included in
COinS