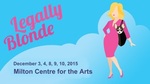 Description
A fabulously fun award-winning musical based on the adored movie, LEGALLY BLONDE THE MUSICAL, follows the transformation of Elle Woods as she tackles stereotypes, snobbery, and scandal in pursuit of her dreams.
Director: Greg Peterson
Musical Director: Tara Litvack
Production Year
2015/2016
Theatre Location
Milton Centre for the Arts
Cast
Elle Woods: Kelsey Lacombe
Emmett Forrest: Tyler Check* Jacques St. Pierre**
Paulette Buonufonte: Ainsley Roy
Warner Huntington III: Jonathan Gysbers
Vivienne Kensington/Saleswoman Courtney: Blaire Lorrison
Professor Callahan: Cameron Kneteman
Greek Chorus:
Serena: Jessica Watters
Margot: Jacqueline Janas
Pilar: Hailey Lewis
Brooke Wyndham/Delta Nu Shandi/Ensemble: Kate Madden
Kyle B. O'Boyle/Ensemble: Matthew Payne
Enid Hoopes/Delta Nu Veronica/Ensemble: Grace McRae
Aaron Schultz/Ensemble: Ben Plunkett
Sundeep Padamadan/Nikos/Ensemble: Dan Byrne
Dewey/Carlos/Ensemble: Tristan Hernandez
Dad/Ensemble: Greg Solomon
Mum/Delta Nu Kristine/Ensemble: Ileah Rosella
Delta Nu Kate/DA Joyce Riley/Ensemble: Mychele Lebrun
Whitney/Chutney Wyndham/Delta Nu Leilani: Celine Tsai
Store Manager/Judge/Delta Nu Gabby/Ensemble: Catherine Wylee
Delta Nu Gaelen/Ensemble: Melanie Paiement
Grandmaster Chad/Ensemble: Jonah McIntosh
Winthrop/Court Stenographer/Ensemble: Daniel Spragg
Lowell/Ensemble:Matthew Pinkerton
Pforzheimer/Court Guard/Ensemble: Gavin Tessier
Kiki, the Colorist/Ensemble: Elijah Manalo
TV Reporter/Ensemble: Nestor Lozano, Jr.
Jet Blue Pilot/Prison Guard/Ensemble: Micah Richardson
"Bruiser" Woods: "Rigley" Lewis
"Rufus" Buonufonte: "Hugo" Gysbers
* December 3, 8, 9th ** December 4, 10th
Keywords
Legally Blonde, Theatre Sheridan
Disciplines
Theatre and Performance Studies
Faculty
Faculty of Animation, Arts & Design
School
Department of Visual and Performing Arts
Creative Commons License


This work is licensed under a Creative Commons Attribution-Noncommercial-No Derivative Works 4.0 License.
SOURCE Citation
Theatre Sheridan, "Legally Blonde, December 3 - 10, 2015" (2015). Theatre Sheridan Productions. 7.
https://source.sheridancollege.ca/faad_visu_uniq_theatre/7
Original Citation
Peterson, G. (Director). (2015, December 3 – 10). Legally blonde. [Theatre Performance]. Oakville: Theatre Sheridan.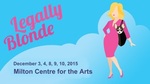 Included in
COinS