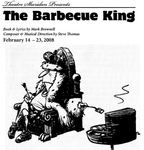 Files
Description
Originally conceived by composers Steve Thomas and Mark Brownell in 2000, The Barbecue King was initially developed in small sections at the Alumnae and Tarragon Theatres. The Barbecue King became a bit of a period piece as the middle class characters represented here have been steadily priced out of cottage country by the Kurt and Goldie's of the world. It is a light musical comedy.
In addition to The Barbeque King the evening opened with Stabat Martha, a piece that celebrates Steve Thomas and Mark Brownell's first collaboration in 1996. This piece was written as a tribute to the "to do list" calendar at the beginning of Martha Stewart Living Magazine. Nominated for a Dora Award it was a part of the Martha Stewart Projects. From the award-winning "Martha Stewart Projects" which premiered at Buddies in Bad Times Theatre in 1996.
Director: Sue Miner
Choreographer: Genny Sermonia
Musical Director: Doug Price
Publication Date
2-14-2008
Production Year
2007/2008
Theatre Location
Studio Theatre, Sheridan
Cast
Bo: Brendan Shoreman
Barb: Joanna Keats
Macey: Chelsey Duplak
Jerry: Joey de Carle
Roger: Mark Nivet

Ensemble
Yvonne: Michelle Bugay
Jaden: Jeremy Wells
Debbie: Genny Sermonia
Glen: Chris Lafleur
Kitty Cole: Kelly Boaz
Kristy Cole: Leah Coombs
Kirsty Cole: Christa Clahane

Stabat Martha
Composed by Steve Thomas
Lyrics by Mark Brownell
Music Directed by Douglas Price
Choreographed by Courtney Thompson
Chorus Members: Kelly Boaz, Michelle Bugay, Christa Clahane, Leah Coombs, Joey de Carle, Chris Lafleur, Mark Nivet, Genny Sermania, Jeremy Wells
Keywords
Barbeque King, Bold Strokes, Stabat Martha, Martha Stewart projects, Theatre Sheridan, musical theatre
Disciplines
Theatre and Performance Studies
Faculty
Faculty of Animation, Arts & Design
School
Department of Visual and Performing Arts
Creative Commons License


This work is licensed under a Creative Commons Attribution-Noncommercial-No Derivative Works 4.0 License.
SOURCE Citation
Theatre Sheridan, "The Barbecue King, February 14 – 23, 2008" (2008). Theatre Sheridan Productions. 90.
https://source.sheridancollege.ca/faad_visu_uniq_theatre/90
Original Citation
Miner, S. (Director). (2008, February 14 – 23). The Barbecue King [Theatre Performance]. Oakville: Theatre Sheridan.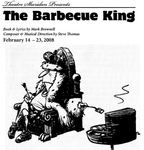 Included in
COinS