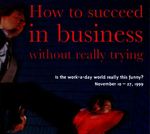 Description
From the authors of Guys and Dolls comes one of the most delightfully irreverent musicals of all time, a satire of big business and all it holds sacred. Winner of both the Tony and Pulitzer Prize for its 1961 debut and considered a biting and uproarious satire of the corporate world with its nepotism, yes-men and old school ties. How To Succeed in Business Without Really Trying is the story of two kinds of people: those who follow the rules and those who don't. Follow the rise of window-washer J. Pierrepont Finch, in his hilarious journey to chairman of the board at the World Wide Wicket Company, a ridiculous company where no one really knows what anyone else is doing. But when Finch meets his true love Rosemary, art mixes with business creating a combustible parody of the workings and morals of the business world and all the quirky characters in it.
Book by Abe Burrows, Jack Weinstock and Willie Gilbert. Music and lyrics by Frank Loesser. Based upon the book by Shepherd Mead.
Director & Choreographer: Brian Hill
Musical Director: Steve Thomas
Publication Date
11-10-1999
Production Year
1999/2000
Theatre Location
Sheridan Hall, Sheridan
Cast
Finch: David Nevin
Rosemary: Chilina Kennedy
Biggley: Craig Evans
Bud Frump: Andrew Colborne
Hedy LaRue: Airin Leigh McFadden, Rebecca Dreiling
Smitty: Jennifer Stewart
Miss Jones: Erin Mackie
Miss Krumholtz: Erin Heagle
Twimble, Womper, Voice: Adrian Gorrissen

Senior Executives
Bratt: Linda Domenichini
Gatch: J.P. Baldwin
Tackaberry: Yasin Sheikh

Junior Executives
Jenkins: David Lopez
Toynbee: Lucas Bryant
Johnson: Natalie Daradich
Davis: Shannon Kingsbury
Matthews, Scrub Woman 2: Tara Britt
Smith, Ovington: Lisa Boivin

Secretaries
Secretary, Scrub Woman 1: Lynze McDonald
Secretary: Adrianne Marcucci
Secretary: Andrea Moseanu
Secretary, Police: Aubrey Young
Secretary: Rebecca Dreiling, Airin Leigh McFadden

TV Studio
Jolly Wicket Dancers: Tara Britt, Lucas Bryant, Natalie Daradich, Erin Mackie, Shannon Kingsbury, David Lopez, Lynze McDonald
Director: Lisa Boivin
Announcer: J.P. Baldwin
Camera One: Adrian Gorrissen
Camera Two: Andrea Moseanu
Sound: Adrianne Marcucci
Script Person: Rebecca Dreiling, Airin Leigh McFadden
Make-up: Aubrey Young
Wardrobe: Erin Heagle
Keywords
How to succeed in business without really trying, Theatre Sheridan, musical theatre
Disciplines
Theatre and Performance Studies
Faculty
Faculty of Animation, Arts & Design
School
Department of Visual and Performing Arts
Creative Commons License


This work is licensed under a Creative Commons Attribution-Noncommercial-No Derivative Works 4.0 License.
SOURCE Citation
Theatre Sheridan, "How to Succeed in Business Without Really Trying, November 10 – 27, 1999" (1999). Theatre Sheridan Productions. 94.
https://source.sheridancollege.ca/faad_visu_uniq_theatre/94
Original Citation
Hill, B. (Director). (1999, November 10 – 27). How to succeed in business without really trying [Theatre Performance]. Oakville: Theatre Sheridan.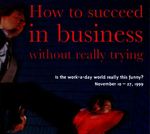 Included in
COinS