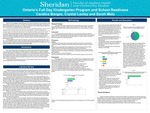 Description
Ontario Certified Teachers (OCT) and Registered Early Childhood Educators (RECE) teaching the FDK program and grade one say that students are not ready for grade one (Youmans, 2016. pg.1). This research explored the question; Does the Ontario Full Day Kindergarten Curriculum provide children with the literacy and numeracy readiness that is required to successfully complete the grade one curriculum? Researchers surveyed over 300 participants who provided information by completing a web-based questionnaire that enquired about the experiences and opinions of educators regarding the FDK program and its effectiveness in preparing students for grade one. 43% (n=347) of participants stated they could not agree that students are academically prepared to enter grade one after completing the FDK program. Educators reported that the program is ineffective in its current version and requires some changes to help students better succeed. Participants cited class sizes, RECE and OCT partnerships, lack of support, and lack of teacher directed math and literacy components as some of the barriers of the effectiveness of FDK. This study suggests that policy makers and curriculum developers should look at revising both the grade one curriculum and the FDK document to create a more seamless transition between the Full Day Kindergarten program and grade one in order to foster better success for students.
Publication Date
4-6-2020
Keywords
Kindergarten, full day kindergarten, math and literacy, class size, play based, early childhood education, ECE, OCT, Ontario curriculum, grade one, school readiness, elementary school, early learning
Disciplines
Education | Pre-Elementary, Early Childhood, Kindergarten Teacher Education | Teacher Education and Professional Development
Faculty
Faculty of Applied Health & Community Studies (FAHCS)
Copyright
© Candice Borges, Crystal Loxley, Sarah Melo
Creative Commons License


This work is licensed under a Creative Commons Attribution-Noncommercial-No Derivative Works 4.0 License.
SOURCE Citation
Borges, Candice; Loxley, Crystal; and Melo, Sarah, "Ontario's Full Day Kindergarten Program and School Readiness" (2020). Honours Bachelor of Early Childhood Leadership (HBECL) Capstone Research Posters. 14.
https://source.sheridancollege.ca/fahcs_student_capstones_hbecl/14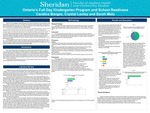 COinS