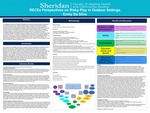 Description
This qualitative study was to understand Register Early Childhood Educators (RECE) perspectives and beliefs about risky play in outdoor childcare settings. The researcher conducted five semi-structured interviews to gain insight and provide a voice for RECEs to share their examples and opinions about risky play. Based on the analysis of the data collected the researcher found five main themes; benefits to skill development for young children, safety, educators' values and beliefs, educators' opinions on parents' views and the outdoor environment. These themes are translated throughout literature as according to McFarland and Laird (2017), they state that in "today's increasingly regulated and controlled society and safety concerns have lent to reduced opportunities for risky play" (p.159). The research revealed that RECEs understand and express the potential benefits for children when promoting and engaging in risky play, but they also highlighted the various factors that can contribute to the lack of implementation of risky play in childcare settings. This supported the researcher in answering the overarching research question and sub-questions as there was a correlation to previous research studies.
Publication Date
4-6-2020
Keywords
registered early childhood educators, RECE, perspectives, risky play, outdoor settings, benefits, child development, values and beliefs
Disciplines
Early Childhood Education | Education | Social and Behavioral Sciences
Faculty
Faculty of Applied Health & Community Studies (FAHCS)
Copyright
© Emily Da Silva
Creative Commons License


This work is licensed under a Creative Commons Attribution-Noncommercial-No Derivative Works 4.0 License.
SOURCE Citation
Da Silva, Emily, "RECEs Perspectives on Risky Play in Outdoor Settings" (2020). Honours Bachelor of Early Childhood Leadership (HBECL) Capstone Research Posters. 15.
https://source.sheridancollege.ca/fahcs_student_capstones_hbecl/15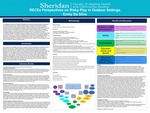 COinS