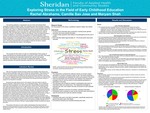 Description
The teaching profession is recognized to be one of the most stressful fields worldwide (Lhospital & Gregory, 2009). This qualitative study was conducted to explore the different stresses of early childhood professionals in the workplace and further explored to see if there is a difference between general and special educators' stress. 14 individuals participated in one-on-one interviews, 7 general educators and 7 special educators. After interviews were conducted, five major themes were found, three of which were echoed in the literature. With the key findings, it was concluded that there is virtually no difference in the stresses among general and special educators. Both general and special educators expressed that there is a lack of professional support for stress management in the workplace which contributes to their stress. In addition to that, another stress factor for educators was not receiving sufficient training for the position they are in. This study presented data and knowledge on what can be done to support educators and decrease their stress in the workplace.
Publication Date
4-6-2020
Keywords
stress, early childhood education, ECE, educators, coping strategies, communication, collaboration, lack of support, specialized training
Disciplines
Early Childhood Education | Education | Social and Behavioral Sciences
Faculty
Faculty of Applied Health & Community Studies (FAHCS)
Copyright
© Rachel Abrahams, Camille San Jose, Maryam Shah
Creative Commons License


This work is licensed under a Creative Commons Attribution-Noncommercial-No Derivative Works 4.0 License.
SOURCE Citation
Abrahams, Rachel; San Jose, Camille; and Shah, Maryam, "Exploring Stress in the Field of Early Childhood Education" (2020). Honours Bachelor of Early Childhood Leadership (HBECL) Capstone Research Posters. 16.
https://source.sheridancollege.ca/fahcs_student_capstones_hbecl/16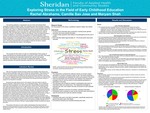 COinS