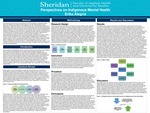 Description
The primary purpose of this study was to explore the diverse perspectives of social service practitioners on the mental health of indigenous youth and communities while examining current methods of practice used in mental health services. This qualitative research study used a narrative design and collected data through a total of five semi-structured, face-to-face interviews involving two Child and Youth Workers, and three Social Workers; three of these five participants are also Registered Early Childhood Educators. The primary research question investigated in this study was: what are Social Service practitioners' perspectives of how they support mental health issues in indigenous youth and communities? The social service practitioners provided insights into their own current methods of practice used in supporting mental health in today's youth which resulted in the emergence of six major themes including; (i) need for advocacy and awareness of indigenous knowledge and communities, (ii) lack of accessible and quality resources, (iii) overrepresentation of indigenous youth in Government services, (iv) insufficient Government support, (v) intergenerational trauma, and (vi) identity loss. The findings of this research report suggested the need for (i) a higher indigenous population of social service workers, (ii) informed, best practices to better meet the needs of indigenous communities and (iii) more Government support is needed in order to help indigenous youth and communities thrive.
Publication Date
4-6-2020
Keywords
Indigenous youth, Indigenous communities, indigenous mental health, mental health, social services, social service practitioners
Disciplines
Indigenous Studies | Mental and Social Health | Psychiatric and Mental Health | Social and Behavioral Sciences
Faculty
Faculty of Applied Health & Community Studies (FAHCS)
Copyright
© Erika Alegria
Creative Commons License


This work is licensed under a Creative Commons Attribution-Noncommercial-No Derivative Works 4.0 License.
SOURCE Citation
Alegria, Erika, "Perspectives on Indigenous Mental Health" (2020). Honours Bachelor of Early Childhood Leadership (HBECL) Capstone Research Posters. 4.
https://source.sheridancollege.ca/fahcs_student_capstones_hbecl/4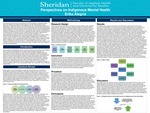 COinS