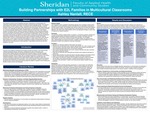 Description
This research revolved around investigating educators' perspectives on communication and relationship building between themselves and English as second language families. This qualitative study followed a narrative research design, incorporating semi-structured interviews, to uncover educators' opinions and experiences of their interactions and communication with these families, and to report on the challenges and difficulties that were present. The participants of this study consisted of 5, currently employed, Registered Early Childhood Educators across Ontario. Data analysis revealed 4 prominent themes in relation to educators' perspectives: factors impacting professional practice; how feelings and personal reflections influence professional outlook; respect for inclusion and cultural diversity; and the importance of communication to relationships. The main theme that resonated in both the data and literature included the topic of training and professional development opportunities available for educators to learn more about multicultural inclusion and teaching practices when it comes to incorporating diversity aspects of children and families in early learning environments. Further research examining these aspects in a larger context can gather more in-depth perspectives, in addition to evaluating if geographical locations of employment and years of experience are contributing factors to other educators in areas different than the ones that were reviewed in this study.
Publication Date
4-6-2020
Keywords
communication, children, cultural diversity, cultural inclusion, early childhood education, ECE, educators perspectives, English as a second language, ESL, family, families, immigrant, multicultural education, multiculturalism, registered early childhood educators, RECE, engage to learn, E2L
Disciplines
Bilingual, Multilingual, and Multicultural Education | Early Childhood Education | Education | Social and Behavioral Sciences
Faculty
Faculty of Applied Health & Community Studies (FAHCS)
Copyright
© Ashley Nanlall
Creative Commons License


This work is licensed under a Creative Commons Attribution-Noncommercial-No Derivative Works 4.0 License.
SOURCE Citation
Nanlall, Ashley, "Building Partnerships with E2L Families in Multicultural Classrooms" (2020). Honours Bachelor of Early Childhood Leadership (HBECL) Capstone Research Posters. 6.
https://source.sheridancollege.ca/fahcs_student_capstones_hbecl/6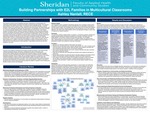 COinS