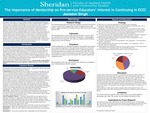 Description
The purpose of this study is to examine whether the quality of mentorship in field placement affect the pre-service educators continued interest to work in the field of ECEC. A quantitative research study was conducted, which included a survey of 48 questions. There were 36 participants who contributed in this study. Most of the participants reported being supported emotionally and having strong relationships with their mentors in all three placements. A majority of them said in all three placements there was frequent communication between themselves and their mentors, including feedback which occurred weekly in most instances. In all three placements, most the participants stated there was frequent communication themselves and their mentors. These meeting took place on a weekly basis. It is unclear how long these meetings lasted. Based on the results gathered it seems a majority of participants had positive experiences during their field placements. As a result of these positive experiences a majority of them are still interested in pursuing a career in the field of ECEC. Emphasis needs to be placed on pre-service educators experiences during field placement as this is an important factor in their retention in the field, not just their theory knowledge.
Publication Date
4-6-2020
Keywords
Early childhood Education, ECEC, Pre-service Educators, mentor, internship, student teacher, training
Disciplines
Early Childhood Education | Education
Faculty
Faculty of Applied Health & Community Studies (FAHCS)
Copyright
© Jeetatmi Singh
Creative Commons License


This work is licensed under a Creative Commons Attribution-Noncommercial-No Derivative Works 4.0 License.
SOURCE Citation
Singh, Jeetatmi, "The Importance of Mentorship on Pre-service Educators' Interest in Continuing in ECEC" (2020). Honours Bachelor of Early Childhood Leadership (HBECL) Capstone Research Posters. 8.
https://source.sheridancollege.ca/fahcs_student_capstones_hbecl/8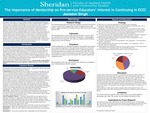 Included in
COinS