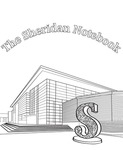 Title
Role
Brandon McFarlane is the author of the book The Sheridan Notebook. Kristine Villeneuve and Devin Murray designed the images in the book The Sheridan Notebook.
Description
The Sheridan Notebook is an integral component to a series of studies that seek to better understand (1) the impact of adult colouring on creativity and mindfulness, and (2) the educational potential of adult colouring. A growing volume of research suggests there is a noteworthy connection between mindfulness and creativity: mindful individuals through presence, openness, acceptance, and self-inquiry are able to adopt many perspectives and pursue multiple solutions when solving problems—characteristics held by highly creative and innovative individuals.
This book synthesizes adult colouring with the "In and Out" note-taking technique—developed at the International Center for Studies in Creativity—to provide students with a novel way to develop their mindfulness skills in the classroom and beyond. Colouring promises to enhance mindfulness while the note-taking strategy deepens learning and retention of course material.
Publication Date
9-1-2016
Publisher
Sheridan College
Keywords
adult colouring, creativity, mindfulness, note taking, Sheridan, note-taking strategies, college, university, student success, pedagogy, adult coloring, open educational resource
Disciplines
Art and Design | Art Education | Art Practice | Educational Psychology | Interactive Arts
Faculty
Faculty of Humanities & Social Sciences
School
School of Humanities and Creativity
Funder
Funded through the Sheridan College Scholarship, Research and Creative Activities (SRCA) Growth Grants
Copyright
©Brandon McFarlane, Kristine Villeneuve, Devin Murray
Creative Commons License


This work is licensed under a Creative Commons Attribution-Noncommercial-No Derivative Works 4.0 License.
SOURCE Citation
McFarlane, Brandon; Villeneuve, Kristine; and Murray, Devin, "The Sheridan Notebook" (2016). Faculty Books. 1.
https://source.sheridancollege.ca/fhass_huma_book/1
Original Citation
McFarlane, B., Villeneuve, K., & Murray, D. (2016). The Sheridan notebook. Oakville, ON: Sheridan College.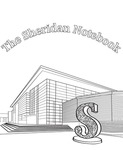 COinS