Title
Preview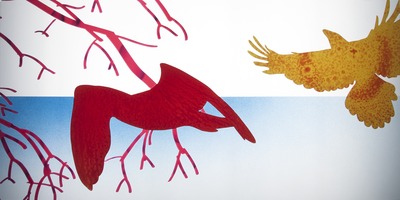 Keywords
Sarah Hall Studio, glass, laser engraving, birds
Description
Techniques used: masked, airbrushed and spattered enamels.
Sample used to make up the Singing the Light installation at Greenwood College School, Toronto, ON.
Physical Sample is located at the Sarah Hall Glass Library, Sheridan College. For more details please visit: https://source.sheridancollege.ca/sarah_hall_glass_library
Item ID: SARAHHALL80, Sheridan College Library Catalogue and Sarah Hall Glass Library
Material
Sheet of glass with enamel.
Measurements
60 cm x 30 cm
Copyright
© Sarah Hall Studio
Creative Commons License


This work is licensed under a Creative Commons Attribution-Noncommercial-No Derivative Works 4.0 License.
SOURCE Citation
Hall, Sarah, "Birds Right" (2016). Greenwood College School. 3.
https://source.sheridancollege.ca/sarah_hall_glass_library_education_greenwood/3
Keywords
Sarah Hall Studio, glass, laser engraving, birds
COinS