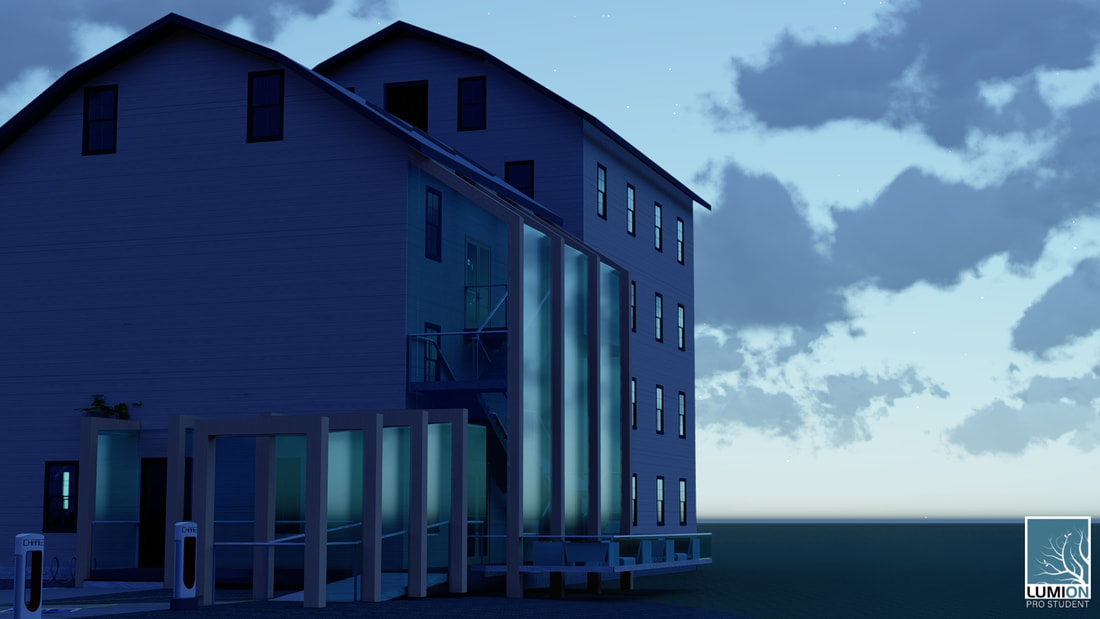 Document Type
Student Work
Publication Date
4-17-2021
Keywords
architectural technology, schematic design, renovation, plan drawing, adaptive reuse, building science, studio 6
Design Concept
The Paisley City Roller Mills is a historical 19th century mill located on the outskirts of Paisley Ontario, on Bruce County Rd 1 alongside the Teeswater River. Part of the building has been converted into a 2-storey single unit home, and there is a proposal to convert the main building into a 5-storey apartment.

This proposal is for an additional conversion of the mill's drive room into a 4-storey specialized community centre. The facility will consist of a nursing centre for the local aging population, and a rest-stop for the Bruce County Snowmobile Trail that crosses the river nearby. The feature space is a rec room and cafe on the 3rd floor with overlooking views of the nearby area.

In order to preserve as much of the existing style of the mill building as possible, the proposal will replace the primary structural elements with steel beams and decks on top of the existing foundation. The existing walls will be insulated and given extra frames behind them in order to reach Passive House standards. The thermal layers include: EPS rigid insulation, followed by high-density cellulose insulation, and an additional frame with batt insulation inbetween. The total expected R-value for the assembly is around R-40. The existing roof will have a floor frame underneath in order to create a mechanical space attic for the building. Between the roof and the ceiling over the third floor, the total expected R-value for the assemblies is around R-60.
Faculty
Faculty of Applied Science & Technology (FAST)
Creative Commons License


This work is licensed under a Creative Commons Attribution-Noncommercial-No Derivative Works 4.0 License.
Original Publication Citation
Ryu, L. (2021, May, 17). Paisley Mill Senior Care Restoration Wall Section. Studio 6 winter 2021. https://perma.cc/N9EV-22EV
SOURCE Citation
Ryu, Louie, "Louie Ryu" (2021). Old Mill. 15.
https://source.sheridancollege.ca/student_work_fast_projects_studio6_old_mill/15