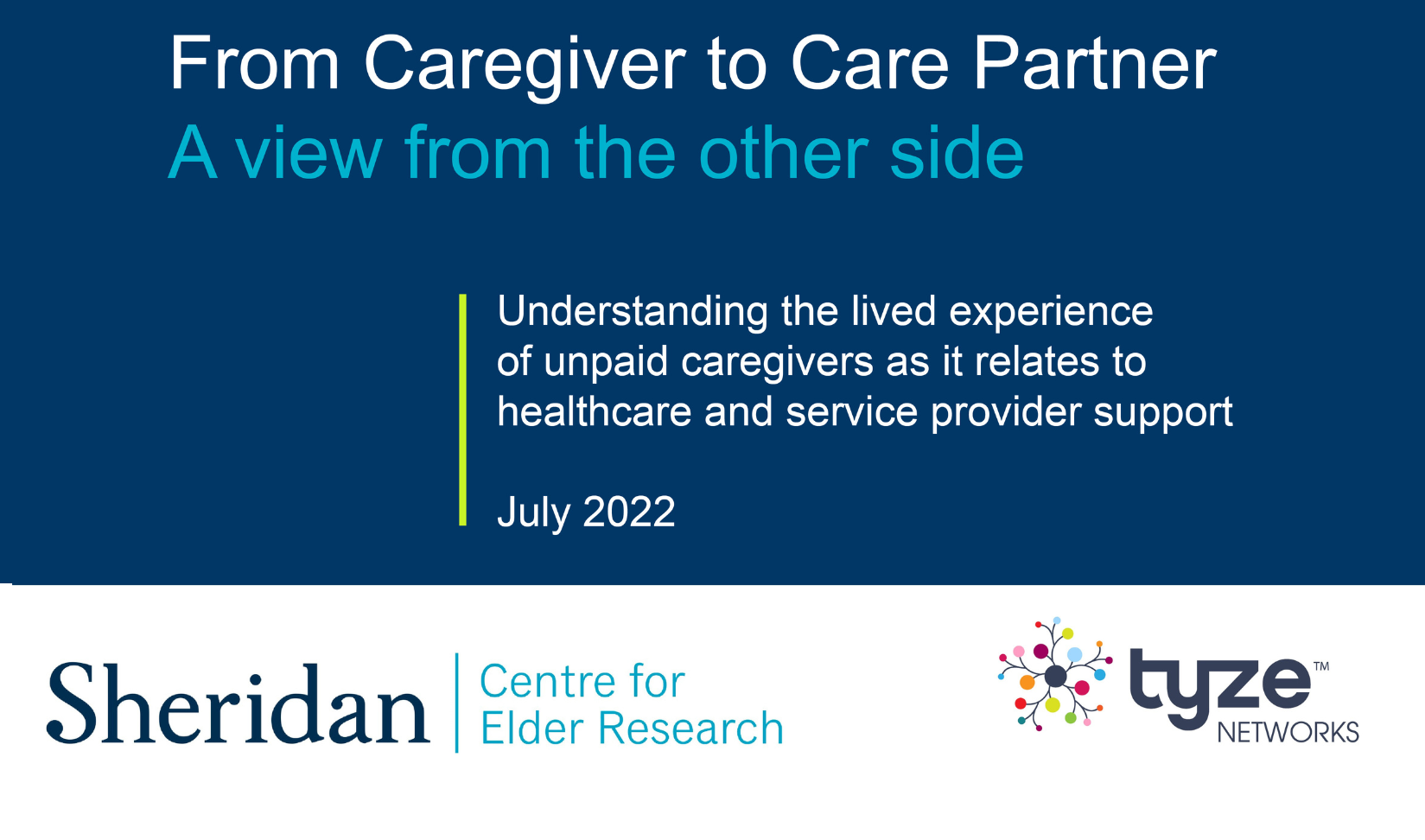 Keywords
caregiver, healthcare, supportive healthcare, service organizations, older adults
Abstract
Background As the trend towards aging in place continues to grow, unpaid caregivers are facing challenges that include access to relevant and meaningful resources, systemic barriers to efficient two-way communication with healthcare and service organizations, navigating the healthcare system, time management, financial strain, and difficult family dynamics.

Objective This project was designed to help Tyze Networks broaden their understanding of how unpaid caregivers, and supportive healthcare and service organizations, perceive the value of formal managed care coordination.

Methods This project began with a comprehensive environmental scan of existing research, policies, pathways, and best practices. This was followed by an online survey targeted at Canadian and American healthcare and service organizations and unpaid caregivers of older adults. The online survey link was provided to potential participants through the Centre for Elder Research's (CER) data base, social media, and Tyze's user base. The research team then reached out to volunteers from the survey to conduct semi structured, one-on-one virtual interviews.

Results Four key findings were found: 1) Communicating with healthcare and other professionals was ranked as the number one challenge for the survey participants; 2) A total of 66% of unpaid caregivers reported that they provided non-healthcare related support to the care recipient; 3) Over 70% of the respondents stated a dedicated application would help them manage all or most of the care coordination; 4) Carrying out the numerous responsibilities of providing care often significantly impacts the unpaid caregivers' well-being and self-care.

Discussion As care partners, caregivers can help by sharing information, participating in aspects of care, and helping to make decisions. They can be spokespersons, advocates, and supporters, especially if care recipients are too ill and unable to do this for themselves.

Conclusion The implementation of a formal mechanism to communicate and coordinate care with healthcare and service organizations has the potential to relieve many of the challenges faced by informal caregivers. For these providers, caregivers can provide invaluable timely information and facilitate coordination of care services.
Faculty
Sheridan Research
Copyright
© Centre for Elder Research & Tyze Networks
Creative Commons License


This work is licensed under a Creative Commons Attribution-Noncommercial-No Derivative Works 4.0 License.
Original Publication Citation
Centre for Elder Research & Tyze Networks. (2022). From caregiver to care partner: A view from the other side. Sheridan Research, Sheridan College.
SOURCE Citation
Centre for Elder Research and Tyze Networks, "From Caregiver to Care Partner: A View From The Other Side" (2022). From Caregiver to Care Partner: A view from the other side. 1.
https://source.sheridancollege.ca/centres_elder_caregiver/1