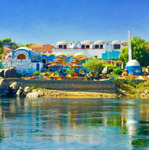 Document Type
Short Story
Story
I was born in Egypt in a small city called Aswan. I was raised there till the age of 10. Upper Egypt, including Aswan, is one of the most fascinating places tourists should visit in my country. Upper Egypt has several ancient sites and temple towns, some built over 5000 years ago, which draw thousands of visitors every year. In this region, there are many destinations that are unique, such as Luxor, with its terrific Valley of the King, the Luxor and Karnak Temples, the Colossi of Memnon, and the Hatshepsut Temple. Aswan also has Nubia City, where tourists can find the Great Dam, Abu Simbel Temple, and the Philae Temple. Furthermore, while learning about the Egyptian civilization in Upper Egypt, tourists can enjoy the Nile cruise and discover the best landmarks of the Pharaohs located between Luxor and Aswan, such as Karnak, Hatshepsut temple, The Valley of the Kings, Edfu and many more.
Another important reason to visit Upper Egypt is its people, who are friendly and helpful. Also, people there have unique food, such as Mulukhiyah, which is bitter leaves boiled until they turn into a thick and hearty liquid. Okra, which is called WAAKAH, is a popular dish, too. The most interesting thing about Egyptians in that area is that they like to spread their customs and traditions in addition to adopting other cultures. Moreover, they are famous for their generosity and hospitality.
Although Egypt has a hot desert climate, its weather cools down certain times a year. The perfect time to visit Upper Egypt is the period from February to April and from October to November. Upper Egypt is considered one of the best, if not the most ideal travel destination in the world.
After being away from my home city Aswan for many years, I spent my honeymoon there. We took a three-night cruise from Aswan to Luxor. We enjoyed discovering the beauty of the historical sites, such as the main temple of Ramses, and the temple at Kom Ombo, while sailing through the longest river in the world. It is worth visiting Aswan as it has an incredible ancient history which has fascinated the world for hundreds of years.
Keywords
stories of home, memories, turning points
Copyright
© Alshyma Bashir
Creative Commons License


This work is licensed under a Creative Commons Attribution-Noncommercial-No Derivative Works 4.0 License.
SOURCE Citation
Bashir, Alshyma, "Aswan: My Home City" (2023). Memories and Turning Points. 4.
https://source.sheridancollege.ca/centres_sgg_2023_stories_of_home_os_memories/4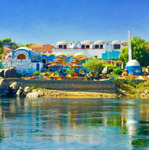 COinS