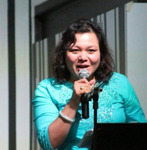 Description
Stephanie Samboo, the Associate Dean for the School of Humanities and Social Sciences at Sheridan College, immigrated to Canada from Singapore in 2000. She credits her grandfather for being the most influential person in her life, as he motivated her to pursue higher education. Stephanie holds her family name in high regard as it is reflective of her heritage, and hence she decided against changing it after getting married.
Keywords
School of Humanities and Social Sciences, Associate Dean
Faculty
Faculty of Humanities & Social Sciences (FHASS)
Copyright
© Stephanie Samboo
Creative Commons License


This work is licensed under a Creative Commons Attribution-Noncommercial-No Derivative Works 4.0 License.
SOURCE Citation
Samboo, Stephanie, "Stephanie from Singapore: Burung KaKak Tua" (2023). Our People. 9.
https://source.sheridancollege.ca/centres_sgg_2023_stories_of_home_our_people/9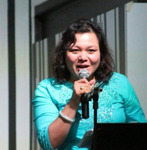 COinS