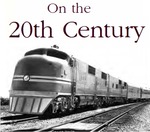 Files
Description
A musical play set on a fabulous luxury train, the Twentieth Century Limited, travelling quickly from Chicago to New York. Impresario Oscar Jaffe, flamboyant and inspired but bankrupt, with four flops in a row, is desperate to revive his luck. As luck would have it, on the same train is his former protégé and lover, Lily Garland, now a major movie star, and her latest lover. Add a rival producer, Oscar's henchmen, passengers, crew, and a wealthy religious nutcase, put them in the Observation Car and various on board drawing rooms, and it is a spectacularly funny and elegant Broadway hit. Not to mention Oscar's preoccupation with Joan of Arc and Mary Magdalene All aboard for surprises and musical mischief at Theatre Sheridan.
Director: Rod Maxwell
Choreographer: Stephen Greig
Musical Director: Steve Thomas
Publication Date
4-14-1999
Production Year
1998/1999
Theatre Location
Macdonald-Heaslip Hall, Sheridan
Cast
Oscar Jaffee: Sean Andrews
Lily Garland: Sophie Schotlander
Bruce Granit/Bishop: Craig Evans
Owen O'Malley: Donald Mitchell
Oliver Webb: Joe Morris
Letitia Primrose: Sheri Cornier
Max Jacobs: Billy Poulin
Grover Lockwood/Porter: Andrew Colborne
Dr. Johnson: Erin Heagle
Imelda Thornton: Nicole Renee Hechavarria
Conductor Flanagan/Priest: Yasin Shiekh
1st Officer/Porter: Lucas Bryant
Maxwell Finch/Porter: Daniel Sterner
Stage Manager: Lucas Bryant
Joan: Tara Britt
Agnes: Lisa Boivin
Anita: Lynze McDonald
1st Officer: Linda Domenichini
Secretary: Jessica Buckwold
Porter: Tate Purdy

Chorus: Lisa Boivin, Tara Britt, Lucas Bryant, Jessica Buckwold, Natalie Daradich, Linda Domenichini, Nicole Renee Hechavarria, Erin Mackie, Adrianne Marcucci, Lynze McDonald, Andrea Moseanu, Billy Poulin, Tayt Purdy, Aubrey Young
Keywords
On the 20th Century, Twentieth Century, train, Theatre Sheridan, musical theatre
Disciplines
Theatre and Performance Studies
Faculty
Faculty of Animation, Arts & Design
School
Department of Visual and Performing Arts
Creative Commons License


This work is licensed under a Creative Commons Attribution-Noncommercial-No Derivative Works 4.0 License.
SOURCE Citation
Theatre Sheridan, "On the 20th Century, April 14 – May 1, 1999" (1999). Theatre Sheridan Productions. 100.
https://source.sheridancollege.ca/faad_visu_uniq_theatre/100
Original Citation
Maxwell, R. (Director). (1999, April 14 – May 1). On the 20th Century [Theatre Performance]. Oakville: Theatre Sheridan.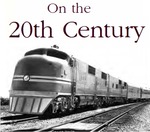 Included in
COinS