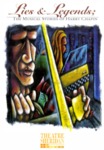 Description
More than any other popular songwriter in recent memory, Harry Chapin was a storyteller. He celebrated the extraordinary lives of ordinary folk, and whether through comedy or pathos, reminded us of a shared emotional heritage. Here, the most inherently theatrical of Chapin's narrative pieces have been assembled, allowing the stories within them to dictate their own dramatic shape.
Original production by Joseph Stern, Sandi, Stephen & Tom Chapin.
Director & Choreographer: Pat Dawson
Musical Director: Douglas Livingston
Publication Date
11-8-1995
Production Year
1995/1996
Theatre Location
Sheridan Hall, Sheridan
Cast
Female Ensemble
Sonya Grundy, Cathy Hansen, Megan Hill, Sarah Jane Hood, Sid Kroach, Lizzie Kurtz, Brenda Massey, Stephanie Parker, Hannah Strong, Regan Thiel, Kara Tremel, Karen Westbye

Male Ensemble
Matthew Hussey, J.D. Ibay, Howard Jackson, Ryan Kelly, Mark Umphrey, Graham Vick, Jean-Paul Yovanoff
Keywords
Lies & Legends; The Musical Stories of Harry Chapin, Harry Chapin, Theatre Sheridan, musical theatre
Disciplines
Theatre and Performance Studies
Faculty
Faculty of Animation, Arts & Design
School
Department of Visual and Performing Arts
Creative Commons License


This work is licensed under a Creative Commons Attribution-Noncommercial-No Derivative Works 4.0 License.
SOURCE Citation
Theatre Sheridan, "Lies & Legends; the Musical Stories of Harry Chapin, November 8 – 25, 1995" (1995). Theatre Sheridan Productions. 106.
https://source.sheridancollege.ca/faad_visu_uniq_theatre/106
Original Citation
Dawson, P. (Director). (1995, November 8 – 25). Lies & legends; The musical stories of Harry Chapin [Theatre Performance]. Oakville: Theatre Sheridan.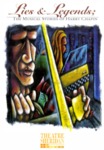 Included in
COinS