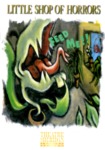 Description
When Little Shop of Horrors opened in a small theatre off-Broadway in 1982, it caused quite a stir among the critics. No one could agree on what to make of this joyous off-beat lampoon of the 'B' movie genre… but everyone had to agree that they loved it. It won the New York Drama Critics Circle Award for Best Musical and was transferred uptown to the big and swanky Schubert Theatre on Broadway where it enjoyed a respectable 'legitimate' run.
This 'little show that grew' is important in that it marked the first collaboration of book and lyric-writer Howard Ashman and composer Alan Menken. The stage musical is based on the 1960 horror film directed by 'B' movie mogul Roger Corman. The film's outlandishly improbable plot, its over-wrought acting, its quick and exploitative filming and rushed editing and its darkly macabre humour are all exemplary hallmarks of the 'B' movie genre and have made it something of a cult favourite. These are the very qualities that the musical stage version celebrates.
Book and lyrics by Howard Ashman. Music by Alan Menken. Based on the film by Roger Corman.
Director: Greg Peterson
Choreographer: Stephen Greig
Musical Director: Douglas Livingston
Publication Date
4-10-1996
Production Year
1995/1996
Theatre Location
Sheridan Hall, Sheridan
Cast
Seymour Krelbourn: Matthew Hussey
Audrey: Megan Hill
Mr. Mushnik: Randolph James
Orin Scrivello: Derek Marshall
Ronnette: Lizzie Kurtz
Crystal: Cathy Hansen
Chiffon: Sarah Jane Hood
The Voice of Audrey II: Jason Chesworth
Puppeteer: Stephanie Parker
Wino: Derek Marshall
Bag Lady: Stephanie Parker
Homeless Person: Jason Chesworth
Mr. Bernstein: Derek Marshall
Mrs. Luce: Derek Marshall
Skip Snip: Derek Marshall
Patrick Martin: Derek Marshall
Keywords
Little Shop of Horrors, Theatre Sheridan, musical theatre
Disciplines
Theatre and Performance Studies
Faculty
Faculty of Animation, Arts & Design
School
Department of Visual and Performing Arts
Creative Commons License


This work is licensed under a Creative Commons Attribution-Noncommercial-No Derivative Works 4.0 License.
SOURCE Citation
Theatre Sheridan, "Little Shop of Horrors, April 10 – 27, 1996" (1996). Theatre Sheridan Productions. 107.
https://source.sheridancollege.ca/faad_visu_uniq_theatre/107
Original Citation
Peterson, G. (Director). (1996, April 10 – 27). Little shop of horrors [Theatre Performance]. Oakville: Theatre Sheridan.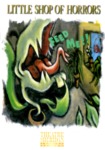 Included in
COinS