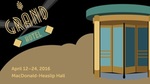 Description
The Grand Hotel is bustling with eccentric and sometimes dubious guests: amongst them a fading prima ballerina being forced to dance again; a fatally ill Jewish bookkeeper who wants to spend his final days living in luxury; a young, handsome, but destitute Baron; a cynical doctor suffering from World War I wounds; an honest businessman going bad as he faces financial ruin and a typist dreaming of Hollywood stardom.
Behold these vibrant dramas as they spring to life in a whirlwind of music and dance. As the wealthy, poor, innocent, bitter, kind and cruel, all reveal their lifelong desires and passions, you'll bask in the shimmering elegance that is…GRAND HOTEL!
Book by Luther Davis, music and lyrics by Robert Wright and George Forrest. Based on Vicki Baum's "Grand Hotel". By arrangement with Turner Broadcasting Co. owner of the motion picture "Grand Hotel". Additional music and lyrics by Maury Yeston.
Director: Brian Hill
Choreographer: Robert Allan
Musical Director: Michael Barber
Publication Date
4-12-2016
Production Year
2015/2016
Theatre Location
MacDonald-Heaslip Hall, Sheridan
Cast
The Guests
Elizaveta Grushinskaya - The Ballerina: Gillian Reed
Baron Felix Von Gaigern - The Baron: Andrew MacNaughton
Otto Kringelein - The Accountant: Greg Solomon
Frieda Flaemme (Flaemmchen) - The Typist: Kate Madden
Raffaela Ottanio - The Ballerina's Companion: Jessica Watters
Colonel-Doctor Otternschlag - The Doctor: Gavin Tessier
Hermann Preysing - The General Director: Jonah McIntosh
Zinnowitz - The Lawyer: Matthew Payne
Sandor - The Theatre Impresario: Stephane Gaudet
Witt - The Ballet Company Manager: Matthew Pinkerton
The Chauffeur: Daniel Spragge
The Countess: Ileah Rosella
The Gigolo: Drew Plummer
The Staff
Hans Rohna - The Manager: Jordan Shore
Erik Litnauer - The Assistant Concierge: Jordan Kenny
The Bellboy Captain: Jacques St. Pierre
The Bellboys: Ben Chiasson, Ben Cookson, Jeffrey Follis, Connor J. Lucas, Tristan Hernandez
The Telephone Operators: Danielle Beauchamp, Mariah Campos, Celine Tsai
The Maids: Lauren Boyd, Grace McRae, Robyn Ord, Melanie Paiement, Emma Rudy, Julia Vos, Catherine Wylee
Madame PeePee: Mychele Lebrun
The Scullery Workers: Dan Byrne, Benjamin Joseph Doncom, Caulin Moore, Harrison Smith
The Others
The Two Jimmys: Nestor Lozano Jr., Elijah Manalo
Trude—A Maid: Celine Tsai
Tootsies: Grace McRae, Melanie Paiement
The Detective: Tristan Hernandez
Young Grushinskaya: Ileah Rosella
Keywords
A Grand Hotel, Theatre Sheridan
Disciplines
Theatre and Performance Studies
Faculty
Faculty of Animation, Arts & Design
School
Department of Visual and Performing Arts
Creative Commons License


This work is licensed under a Creative Commons Attribution-Noncommercial-No Derivative Works 4.0 License.
SOURCE Citation
Theatre Sheridan, "Grand Hotel: The Musical, April 12 - 24, 2016" (2016). Theatre Sheridan Productions. 11.
https://source.sheridancollege.ca/faad_visu_uniq_theatre/11
Original Citation
Hill, B. (Director). (2016, April 12 – 24). Grand hotel: the musical. [Theatre Performance]. Oakville: Theatre Sheridan.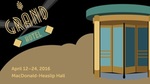 Included in
COinS