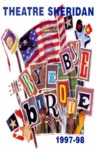 Description
Set in 1958, the Rock-and-roll industry's biggest star, Conrad Birdie, has been drafted into the US army. Birdie's agent organize for a farewell performance on The Ed Sullivan Show to promote sales for Birdie's new music. The event becomes complicated and comedy ensues as a fan is selected for a farewell kiss from Birdie and jealousy and star-struck wonder jeopardize the show.
Book by Michael Stewart. Music by Charles Strouse. Lyrics by Lee Adams
Director & Choreographer: David Connolly
Musical Director: Greg Andrews
Publication Date
2-12-1998
Production Year
1997/1998
Theatre Location
Sheridan Hall, Sheridan
Cast
Deborah Sue Merkle: Erin Archer
Mayor: Christian Bell-Smith
Mayor's Wife: Sonia Bentivoglio
Conrad Birdie: Matt Cassidy
Alice: Genevieve Cholette
Harry Macafee: Shawn Firlotte
Mr. Johnson: Santiago Garcia
Doris Macafee: Sherry Garner
Gloria Rasputin/Margie: Danielle Gauthier
Charles F. Maude: Franc-Anton Harwart
Kim Macafee: Krista J. Konkin
Mae Peterson: Rebecca Llewellyn
Albert Peterson: Derek Marshall
Randolph Macafee: Jet Matas
Rose Alvarez: Melanie Phillipson
Hugo Peabody: Andrew Pike
Mrs. Merkle: Liana Primerano
Penelope Ann Henkle: Sarah Rankin
Harvey Johnson: Tony Rauchberger
Nancy: Marianne Turner
Ursula Merkle: Danielle Wolstat

Chorus
Jenny Smith: Marion Abbott
Delores Delaney: Sheri Cormier
Skip: Peter Deiwick
Muffie Johnson: Renita Greener
Renee: Nikki Hechavarria
Francis Peabody: Colleen O'Brien
Ruthie Henkle: Sophie Schottlander
Karl Johnson: Sean Andrews
Michael Gregg: Greg Csefko
Kenneth James: Scott Freethy
Kitty MacDonald: Michelle Anjali Hardie
Ernie Henkle: Joe Morris
Helen Henkle: Jana Rydell
Freddie: Blaine Totten
Keywords
Bye Bye Birdie, Theatre Sheridan, musical theatre
Disciplines
Theatre and Performance Studies
Faculty
Faculty of Animation, Arts & Design
School
Department of Visual and Performing Arts
Creative Commons License


This work is licensed under a Creative Commons Attribution-Noncommercial-No Derivative Works 4.0 License.
SOURCE Citation
Theatre Sheridan, "Bye Bye Birdie, February 12 – 28, 1998" (1998). Theatre Sheridan Productions. 111.
https://source.sheridancollege.ca/faad_visu_uniq_theatre/111
Original Citation
Connolly, D. (Director). (1998, February 12 – 28). Bye bye Birdie [Theatre Performance]. Oakville: Theatre Sheridan.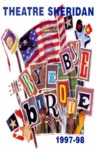 Included in
COinS