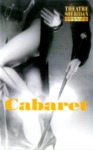 Description
Set in 1920's to 1930's Berlin, when avant-garde Germany is shifting to reflect Hitler's totalitarian regime.
Clifford Bradshaw, an aspiring American writer finds himself wandering into a Berlin nightclub, Kit Kat Club, and meets a cabaret performer, Sally Bowles. Their relationship develops into a romance and is complicated by stirrings of Nazi conspirators. Cliff decides to leave Nazi Germany and encourages Sally to come with him to America but she is unwilling to leave her Berlin lifestyle.
Cabaret is an unflinching political musical with songs by John Kander and Fred Ebb. Adapted for theatre by Joe Masteroff from the Christopher Issherwood's The Berlin Stories.
Director: Greg Peterson
Choreographer: Andrea Mann
Musical Director: Greg Andrews
Publication Date
2-9-1995
Production Year
1994/1995
Theatre Location
Sheridan Hall, Sheridan
Cast
Master of Ceremonies/Emcee: Sal Figliomeni, Mike Therriault

Kit Kat Club Staff
Max, the proprietor: Howard Jackson
Gunter, the Maitre D': Graham Vick
Gustav, a Waiter: Jay Davis
Wilhelm, a Waiter: John Dixon
Sabu, the Bartender: J.D. Ibay

Kit Kat Klub Band
Eve, on Piano and Accordion: Sarah Jane Hood
Salome, on Trombone and Tuba: Brenda Massey
Delilah, on Tenor Sax: Ryan Kelly
Jezebel, on Percussion: Matt Hussey

Kit Kat Klub Girls
Heidi: Stephanie Graham
Inga: Laila Moos
Christina: Sid Kroach
Marci: Karen Westbye
Betty: Kara Tremel
Helga: Hannah Strong

Kit Kat Klub Performers
Gerhardt Schlogelheimer, a Juggler: David Dunlop
Uta, Mud Wrestler #1: Lizzie Kurtz
Gesa, Mud Wrestler #2: Cathy Hansen
Rolf Rheiner, a Ventriloquist: Doug Millar

Sally Bowles: Allison deWaal, Eve Ogle
Clifford Bradshaw: Daniel Speck, Hank Verhoeven
Ernst Ludwig: Mark Umphrey
German Customs Officer #1: Howard Jackson
German Customs Officer #2: Graham Vick
Fraulein Schneider: Kelly Green, Michelle Jackett
Fraulein Kost: Cecilia Bennett, Shelly Cass
Herr Schultz: Ray McKenna, Marcello Tulipano

German Sailors
Karl: David Dunlop
Otto: Matt Hussey
Rudy: Ryan Kelly
Ilsa, a Genuine Flapper: Cathy Hansen
Bobby Spencer, a Kit Kat Regular: Michael Finnerty
Victor Klimpt, his Friend: Doug Millar
Taxi Man: Doug Millar

Two Ladies
Blonde: Stephanie Graham
Brunette: Laila Moss

Nazi Youth #1: David Dunlop
Nazi Youth #2: John Dixon
Gorilla: Stephanie Graham
Body Guard #1: David Dunlop
Body Guard #2: Matt Hussey

Kit Kat Klub Patrons
Girls: Nicole Fitzgerald, Cathy Hansen, Nanci Henderson, Sarah Jane Hood, Lizzie Kurtz, Brenda Massey
Boys: David Dunlop, Michael Finnerty, Ryan Kelly, Jay Davis, John Dixon, Matt Hussey, Doug Millar
Keywords
Cabaret, Theatre Sheridan, musical theatre
Disciplines
Theatre and Performance Studies
Faculty
Faculty of Animation, Arts & Design
School
Department of Visual and Performing Arts
Creative Commons License


This work is licensed under a Creative Commons Attribution-Noncommercial-No Derivative Works 4.0 License.
SOURCE Citation
Theatre Sheridan, "Cabaret, February 9 – 25, 1995" (1995). Theatre Sheridan Productions. 114.
https://source.sheridancollege.ca/faad_visu_uniq_theatre/114
Original Citation
Peterson, G. (Director). (1995, February 9 – 25). Cabaret [Theatre Performance]. Oakville: Theatre Sheridan.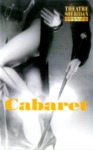 Included in
COinS