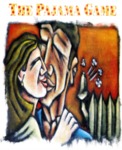 Description
It's 1954 in Cedar Rapids, Iowa and there's a fight going on down at the Pajama Factory. The management wants more PJs per hour, the union want more pay, and Sid, the new shop superintendent whiz from Chicago, really wants Babe Williams, the head of the workers' Grievance Committee, to be his girl. As the workers strike for a pay increase sparks fly between the two battling characters'.
A lot of singing and dancing; a little sexy, a little silly and a whole lot funny; zesty with great tunes like "Steam Heat," "Hey There," and "Hernando' Hideaway;" this is the Tony Award Winning Pajama Game.
Can business and pleasure go arm-in-arm to the Company picnic? Can you cuddle in the back seat and till square off at the bargaining table? Can you lead with your heart and not end up in the red? Join Theatre Sheridan for this classic musical comedy and find out!
Director: Rod Maxwell
Choreographer: David Connolly
Musical Director: Marilyn Campbell
Publication Date
2-7-1996
Production Year
1995/1996
Theatre Location
Sheridan Hall, Sheridan
Cast
Hines: Randolph James
Prez: Ryan Kelly
Joe: Matthew Hussey
Hasler: Jean-Paul Yovanoff
Gladys: Kara Tremel
Sid Sorokin: Graham Vick
Mabel: Sarah Jane Hood
First Helper: Ted Hallett
Second Helper: Jay Davis
Charlie: J.D. Ibay
Babe Williams: Stephanie Parker
Mae: Sonya Grundy
Brenda: Rebecca Shoichet
Poopsie: Gwen Carroll
Salesman: Mark Umphrey
Pop: Matthew Hussey
Girl #1: Aimee Lococo
Girl #2: Krisma Travis

Female Dancers and Singers
Laura Bubanko, Samantha Collard, Melissa Dupuis, Kara Gowing, Sonya Grundy, M.J. Johnson, Aimee Lococo, Rebecca Shoichet, Sarah Strange, Tammy Sutherland, Krisma Travis, and Chantelle Wilson

Male Dancers and Singers
Sean Beaton, Jay Davis, Ted Hallett, Matthew Hussey, J.D. Ibay, and Mark Umphrey
Keywords
The Pajama Game, Theatre Sheridan, musical theatre
Disciplines
Theatre and Performance Studies
Faculty
Faculty of Animation, Arts & Design
School
Department of Visual and Performing Arts
Creative Commons License


This work is licensed under a Creative Commons Attribution-Noncommercial-No Derivative Works 4.0 License.
SOURCE Citation
Theatre Sheridan, "The Pajama Game, February 7 – 24, 1996" (1996). Theatre Sheridan Productions. 115.
https://source.sheridancollege.ca/faad_visu_uniq_theatre/115
Original Citation
Maxwell, R. (Director). (February 7 - 24, 1996). The pajama game [Theatre Performance]. Oakville: Theatre Sheridan.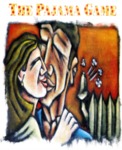 Included in
COinS