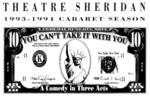 Description
Written during the Depression by George Kaufman and Moss Hart this comedy explores the eccentric lives of the Sycamores, a New York family, whose interests include collecting snakes, building fireworks, writing plays without hope of publishing, ballet…etc. These activities and the joyful dash of discoveries that the clan explore are suspended as the youngest member, Alice Sycamore becomes engaged to her company's Vice President, Tony Kirby, and the two families must meet and come to an understanding.
Director: Jane Carnwath
Choreographer: Robin Hutton
Musical Director: Marilyn Campbell
Publication Date
4-7-1994
Production Year
1993/1994
Theatre Location
Sheridan Hall, Sheridan
Cast
Penelope Sycamore: Christine Ford
Essie: Stefanie Roth
Rheba: Liann Middlehurst
Paul Sycamore: Craig Marshall
Mr. De Pinna: Vince Staltari
Ed: Daniel Speck
Donald: Hank Verhoeven
Martin Vanderhof: Stephen Patterson
Alice: Robin Hutton
Henderson: Marcello Tulipano
Tony Kirby: Parres M. Allen
Boris Kolenkhov: Dustin Kane
Gay Wellington: Michelle Meichenbaum
Mr. Kirby: James Anderson
Mrs. Kirby: Laurie Hurst
Olga Katrina: Maria Ferrari
Three Men: Marcello Tulipano, G. Douglas Millar & Graham Vick
Keywords
You Can't Take It with You, Theatre Sheridan, musical theatre
Disciplines
Theatre and Performance Studies
Faculty
Faculty of Animation, Arts & Design
School
Department of Visual and Performing Arts
Creative Commons License


This work is licensed under a Creative Commons Attribution-Noncommercial-No Derivative Works 4.0 License.
SOURCE Citation
Theatre Sheridan, "You Can't Take It with You, April 7 – 23, 1994" (1994). Theatre Sheridan Productions. 116.
https://source.sheridancollege.ca/faad_visu_uniq_theatre/116
Original Citation
Carnwath, J. (Director). (1994, April 7 – 23). You can't take it with you [Theatre Performance]. Oakville: Theatre Sheridan.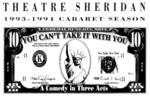 Included in
COinS