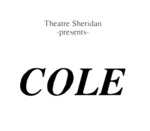 Description
Cole, an entertainment based on the words and music of Cole Porter.
Cole Porter, one of the outstanding American composer-lyricists of the 20th century, was born in Peru, Indiana in 1891, the only son of Samuel and Kate Porter.
His early life was dominated by the strong personalities of his mother, who determined he should pursue a career as a musician, and maternal grandfather, a rich landowner. Porter was educated at Worcester Academy, Massachusetts and then at Yale where his musical talents found ideal scope in the Glee Club and the Yale Drama, for which he wrote several musical-comedies, as well as writing songs for the football team (which are still sung at Yale). Lasting college friends included Monty Woolley, with whom he collaborated in later work. After Yale he began studying law at Harvard at his grandfather's insistence, but later switched to music. His first full-scale professional production was the comic opera See America First, which had a brief Broadway run in 1916. For the next 12 years, his life was spent mostly abroad. His Broadway career began in earnest with Paris (1928) and Fifty Million Frenchmen (1929), the successes of which ended his expatriate period. The '30s saw a remarkable succession of Cole Porter hits on Broadway, including Gay Divorce with Fred Astaire (1932), Anything Goes (1934), Jubilee (1935), Red Hot and Blue (1936) and Du Barry Was A Lady with Ethel Merman and Bert Lahr (1939). He also worked in Hollywood in the '30s, with original film scores including Born to Dance (1936) and Rosalie (1937).
In 1938 he suffered a serious riding accident which dogged him for the rest of his life. However, his career continued in both theatre and films, with Kiss Me Kate in (1948), Can-Can (1953), and Silk Stockings (1955). His Hollywood work during his later career included The Pirate (1948), High Society (1956) and Les Girls (1957). His health deteriorating during his last years, Cole Porter died in October, 1964 in Santa Monica, California, at the age of 73.
Director: Greg Peterson
Choreographer: Len Gibson
Musical Director: Jean Minielly
Publication Date
4-11-1990
Production Year
1989/1990
Theatre Location
Sheridan Hall, Sheridan
Cast
Featuring
Susan Fry, Christopher Furlong, Liam Patrick, Emerson Mitchell, Meredith Palmer, Jonathan Russell, Andy Salton, Suzin Schiff, Anne Speare, Arlene Turner
with
Michael Lawrence, Shawn Daudlin, Sean Doyle, Rob Iseman, Shawna Lance, Jennifer Magee, Karen Park, Keith Park, Geoff Tyler, Brent Wees
Keywords
Cole, Cole Porter, Theatre Sheridan, musical theatre
Disciplines
Theatre and Performance Studies
Faculty
Faculty of Animation, Arts & Design
School
Department of Visual and Performing Arts
Creative Commons License


This work is licensed under a Creative Commons Attribution-Noncommercial-No Derivative Works 4.0 License.
SOURCE Citation
Theatre Sheridan, "Cole, April 11 – 28, 1990" (1990). Theatre Sheridan Productions. 121.
https://source.sheridancollege.ca/faad_visu_uniq_theatre/121
Original Citation
Peterson, G. (Director). (1990, April 11 – 28). Cole [Theatre Performance]. Oakville: Theatre Sheridan.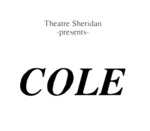 Included in
COinS