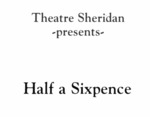 Description
"Half a Sixpence" is the story of Arthur Kipps, a simple, honest, lovable orphan, apprenticed to Shalford's Drapery Emporium and Fancy Goods Bazaar, in Folkestone, England at the turn of the century. Through a series of remarkable coincidences, he inherits a fortune, proposes to Helen (a young lady of rank and education), and sets off to better himself and rise in society. Based on the H.G. Wells novel "Kipps", a novel that reflects Wells' own humble beginnings and his views on Socialism, the show was produced in 1963 England, and was a vehicle for the song and dance talents of Tommy Steele. True to Wells' Fabian Socialist beliefs, Kipps, with the help of his true love, Ann, comes to realize that wealth and rank are not everything and that they can hurt and distort lives. He sees that the working man has his own dignity and worth.
Director: Christina James
Choreographer: David Connolly
Musical Director: John Karr
Publication Date
2-14-1990
Production Year
1989/1990
Theatre Location
Sheridan Hall, Sheridan
Cast
An Apprentice Shopman - Arthur Kipps: Martin Knauer

Fellow Apprentices
Sid Pornick: Gary Mitchell
Buggin: Christopher Furlong
Pearce: Andy Salton

The Floor-Walker - Mr. Carshot: Peter Fleming

Shop Girls
Flo: Kristi Breen
Victoria: Anne Marie Massicotte
Kate: Ann Hunter
Emma: Arlene Turner

Owner of the Emporium - Shalford: Jonathan Russell

Customers of the Emporium
Mrs. Margaret Walsingham: Lina Giomofelice
Mrs. Maud Botting: Meredith Palmer

Sid's sister - Ann: Anne Speare

Margaret Walsingham's Husband - William Walsingham: Liam Patrick

William's sister - Helen Walsingham: Tanya Abulnar

An actor and playwright - Harry Chitterlow: Matthew Saliba

A Barmaid - Laura: Susan Fry

Students at Evening Class
Edith: Karen Park
Mr. Jones: Joel Freedman
Violet: Erin Hindle

Of the "Folkestone Gazette"
Photographer: Shawn Daudlin
First Reporter: Michael Lawrence
Second Reporter: Kent Schenk

A Cheeky Parlour Maid - Gwendolen: Jennifer Magee

Standby for Kipps : Sean Doyle
Standby for Ann: Jennifer Cook

Customers, Students and Guests
Erin Hindle, Heather Moore, Paige Tuddenham, Joel Freedman, Keith Park, Philip Wallace, Jennifer Magee, Karen Park, Shawn Daudlin, Robert lseman, Kent Schenk, Brent Wees, Kerrin Mehagan, Shelley Simester, Sean Doyle, Michael Lawrence, Geoffrey Tyler
Keywords
Half a Sixpence, H.G. Wells, Theatre Sheridan, musical theatre
Disciplines
Theatre and Performance Studies
Faculty
Faculty of Animation, Arts & Design
School
Department of Visual and Performing Arts
Creative Commons License


This work is licensed under a Creative Commons Attribution-Noncommercial-No Derivative Works 4.0 License.
SOURCE Citation
Theatre Sheridan, "Half a Sixpence, February 14 – March 3, 1990" (1990). Theatre Sheridan Productions. 122.
https://source.sheridancollege.ca/faad_visu_uniq_theatre/122
Original Citation
James, C. (Director). (1990, February 14 – March 3). Half a sixpence [Theatre Performance]. Oakville: Theatre Sheridan.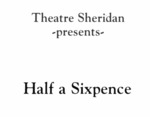 Included in
COinS