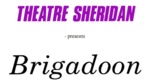 Description
Bigadoon was the first major Broadway hit for Turner and Loewe who described it as "a whimsical musical fantasy." Set in a magical Scottish village which appears out of the Scottish mist once every hundred years and disappears again, two American tourists stumble upon the fantasy village and develop love interests with two of the villagers. The tourists must choose between their love interests in Brigadoon or life back in present-day New York. The two do leave the village but love has a way of creating miracles.
Book and lyrics by Alan Jay Lerner. Music by Frederick Loewe.
Director: Ron Cameron
Choreographer: Sharon Smith
Musical Director: Jean Minielly
Publication Date
2-8-1989
Production Year
1988/1989
Theatre Location
Sheridan Hall, Sheridan
Cast
Tommy Albright: Paul McQuillan, David Connolly
Jeff Douglas: Alan Clow, Alex J. Bodnar
Annie MacGuffie: Jennifer Fagan
Donald Beaton: Michael Lawrence
Sandy: Jamie Blake
Peggy Abernethy: Sharron Matthews
MacGregor: Martin Knauer
Harry Beaton: Sal Scozzari
Meg Brockie: Donna Greenidge-Ross, Karen LeBlanc
Andrew MacLaren: Gary Mitchell
Fiona MacLaren: Lou Burgess, Karen Cohen
Jean MacLaren: Jemmie Phillips, Liz Gilroy
Charlie Cameron: Barry Higgins
Mr. Murdoch: Christopher Furlong
Frank: Curtis Lessels
Jane Ashton: Lina Giornofelice, Sarah Sked
Sword Dancer: Malcom MacPherson

The Chorus
Kristi Breen, Anne Speare, Terrie Turai, Heather Cherron, Liam Patrick McDonald, Andrew Shanen, Jenni Burke, Donna Dwyer, Tanya Abulnar, Cara Lee Pendlebury, Missi Beauman
Keywords
Brigadoon, Theatre Sheridan, musical theatre
Disciplines
Theatre and Performance Studies
Faculty
Faculty of Animation, Arts & Design
School
Department of Visual and Performing Arts
Creative Commons License


This work is licensed under a Creative Commons Attribution-Noncommercial-No Derivative Works 4.0 License.
SOURCE Citation
Theatre Sheridan, "Brigadoon, February 8 – March 4, 1989" (1989). Theatre Sheridan Productions. 124.
https://source.sheridancollege.ca/faad_visu_uniq_theatre/124
Original Citation
Cameron, R. (Director). (1989, February 8 – March 4). Brigadoon [Theatre Performance]. Oakville: Theatre Sheridan.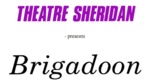 Included in
COinS