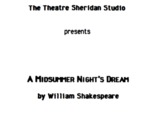 Description
The Duke of Athens, Theseus, is marrying the queen of the Amazons. A four day extravaganza is planned out and Athenians gather to celebrate the occasion. Two sets of star-crossed lovers must work through the repercussions of defying family expectations.
Into this mix are a band of fairies including the fairy king, Oberon, and Titania, the queen who are feuding over an Indian prince. A love potion is introduced through the fairies' meddling and the Athenian lovers are given the potion with disastrous results.
Director: Ron Cameron
Publication Date
11-26-1987
Production Year
1987/1988
Theatre Location
Studio Theatre, Sheridan
Cast
The Court
Theseus, Duke of Athens: Alan Clow
Hippolyta, Queen of the Amazons, betrothed to Theseus: Luisa Appolloni
Egeus, Hermia's father: Michael McGinn
Philostrate, Master of the Revels: Jonathon Russell

The Lovers
Hermia, In love with Lysander: Lisa MacNeil
Demetrius, Suitor of Hermia: Christopher Shyer
Lysander, Loved by Hermia: Christopher Furlong
Helena, In love with Demetrius: Sarah Sked

The Mechanicals
Mistress Quince: Louisa Burgess
Nick Bottom: Fernando Santos
Francis Flute: Andy Salton
Robin Starvling: Jeff Hill
Tom Snout: Daniel Castlefield
Mistress Snug: Karen LeBlanc

The Fairies
Oberon, King of the Fairies: Allan Clow
Titania, Queen of the Fairies: Luisa Appolloni
Puck, or Robin Goodfellow: Michael Harvey
Peaseblossom: Jackie Lee
Cobweb: Curtis Lessels
Moth: Jonathan Russell
Mustardseed: Heather Cherron
Keywords
A Midsummer Night's Dream, William Shakespeare, Theatre Sheridan, musical theatre
Disciplines
Theatre and Performance Studies
Faculty
Faculty of Animation, Arts & Design
School
Department of Visual and Performing Arts
Creative Commons License


This work is licensed under a Creative Commons Attribution-Noncommercial-No Derivative Works 4.0 License.
SOURCE Citation
Theatre Sheridan, "A Midsummer Night's Dream, November 26 – December 5, 1987" (1987). Theatre Sheridan Productions. 129.
https://source.sheridancollege.ca/faad_visu_uniq_theatre/129
Original Citation
Cameron, R. (Director). (1987, November 26 – December 5). A midsummer night's dream [Theatre Performance]. Oakville: Theatre Sheridan.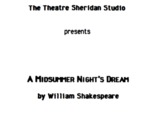 Included in
COinS