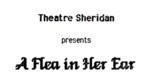 Description
This traditional French bedroom farce involves the story of a husband whose wife misinterprets a note and suspects him of assignations in a hotel of low repute. She therefore addresses a letter to him in the guise of a smitten lady, makes an appointment at the hotel, and then goes to see how faithful he really is. "But" he says, "this could not be addressed to me" and gives it to his friend who goes instead. The complications come fast and furious! To add to the confusion, the hall porter in the hotel is the husband's double. Throw in a mad Spaniard who runs amok with a pistol, and the result is mayhem!
By Georges Feybeau, translated by John Mortimer.
Director: Jo Havilland
Publication Date
1-23-1985
Production Year
1984/1985
Theatre Location
Sheridan Hall Theatre
Cast
Camille Chandebise: John E. Prendergast
Antoinette Plucheux: Valentina Sitnik
Etienne Plucheux: Donna Bernhardt
Dr. Finache: Mark Cassius Ferguson
Lucienne Homenides de Histangua: Carla V. M. Devenish
Raymonde Chandebise: Roxanne Carriere
Victor Emmanuel Chandebise: Michael C. Hannigan
Romain Tournel: David Cumming
Carlos Homenides de Histangua: Frank J. Mendicino
Eugenie: Christine Zimmerly
Augustin Feraillon: Vernon Hiller
Olympe: Christy Eaglesham
Baptistin: Stephen Webb
Herr Schwarz: Lee Doyle
Poche: Michael C. Hannigan
Guests at the Hotel Coq d'Or: Barbara L.W. Fisher, Kymberley Huffman, Marcel LaPorte, Michele McLaughlin, Nancy Pataki, Linda Randle, Cathy Woodcock, Dale T. Yearley
The Babies: Jamie and Aylsa
Keywords
A Flea in Her Ear, Theatre Sheridan, musical theatre
Disciplines
Theatre and Performance Studies
Faculty
Faculty of Animation, Arts & Design
School
Department of Visual and Performing Arts
Creative Commons License


This work is licensed under a Creative Commons Attribution-Noncommercial-No Derivative Works 4.0 License.
SOURCE Citation
Theatre Sheridan, "A Flea in Her Ear, January 23 – February 2, 1985" (1985). Theatre Sheridan Productions. 130.
https://source.sheridancollege.ca/faad_visu_uniq_theatre/130
Original Citation
Havilland, J. (Director). (1985, January 23 – February 2). A flea in her ear [Theatre Performance]. Oakville: Theatre Sheridan.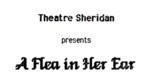 Included in
COinS