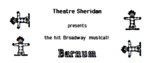 Description
A Broadway musical disguised as a circus act and an entertainment act with everything in it but the proverbial kitchen sink! With song, dance, juggling, tightrope walking, and aerial acts, the director has more than earned his title of "Cecil B. de Maxwell".
Ray Twink Watson was a part of the production team. A three-time world record holder and circus performer of international fame, Twink brought his unique talents to the production as a special acts coach and performer. Demonstrations of his daring aerialist acts, along with the talents of individual cast members, was seen prior to the performances and at intermissions, under the "Big Top".
By Mark Bramble. Lyrics by Michael Stewart, music by Cy Coleman.
Director: Rod Maxwell
Choreographers: Gwen Bloom, Rod Maxwell, Cassel Miles
Musical Director: Alan Poaps
Publication Date
2-27-1985
Production Year
1984/1985
Theatre Location
Sheridan Hall Theatre
Cast
Phineas Taylor Barnum: Mark Cassius
Chairy Barnum: Christy Eaglesham
Joice Heth: Donna Bernhardt
Tom Thumb: Tony Vieira
Julius Goldschmidt: Geoffrey Whynot
Jenny Lind: Linda Randle
Blues Singer: Christine Zimmerly
Ringmaster/James A. Bailey: Glyndwr James
Chester Lyman: Cassel Miles
Amos Scudder: Michael Hannigan
Sherwood Stratton: Kevin Nelson
Mrs. Sherwood Stratton: Roxanne Carriere
Wilton: Adam Morton
Edgar Templeton: David Cumming
Humbert Morrisey: Mark Candler
First Woman: Fiona Wheelband
Second Woman: Nancy Pataki
Concertmaster: Lawrence Mahuskey
Keywords
Barnum, Theatre Sheridan, musical theatre
Disciplines
Theatre and Performance Studies
Faculty
Faculty of Animation, Arts & Design
School
Department of Visual and Performing Arts
Creative Commons License


This work is licensed under a Creative Commons Attribution-No Derivative Works 4.0 License.
SOURCE Citation
Theatre Sheridan, "Barnum, February 27 – March 23, 1985" (1985). Theatre Sheridan Productions. 135.
https://source.sheridancollege.ca/faad_visu_uniq_theatre/135
Original Citation
Maxwell, R. (Director). (1985, February 27 – March 23). Barnum [Theatre Performance]. Oakville: Theatre Sheridan.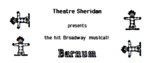 Included in
COinS