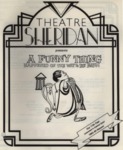 Description
A comedy that borrows from the ancient Greek comedies of Plautus with a contemporary twist. Pseudolus, the slave of Hero, plots to obtain the beautiful virgin, Phelia, for his master in exchange for his freedom. The plot quickens and unravels with mistaken identities and schemes that go awry.
Book by Burt Shevelove & Larry Gelbart. Music & Lyrics by Stephen Sondheim.
Director: Bryan Foster
Choreographer: Maureen Shone
Musical Director: Michael Stanutz
Publication Date
11-23-1983
Production Year
1983/1984
Theatre Location
Sheridan Hall Theatre
Cast
Pseudolus, slave to Hero: Mark Cassius Ferguson
Senex, an old man: Kevin Burnett
Domina, his wife: Barbara Fisher
Hero, his son, in love with Philia: Robin J. Williams
Hysterium, slave to Senex and Domina: Steven Wilbee
Erronius, an old man: Michael Hannigan
Miles Gloriosus, a warrior: Glyn James
Lycus, a buyer and seller of courtesans: Frank Mendicino
Tintinabula, a courtesan: Carl Lee Fallis
Panacea, a courtesan: Sonia May
The Geminae, courtesans: Astrid Rammo, Cathy Woodcock
Vibrata, a courtesan: Donna Bernhardt
Philia, a virgin: Dianne Kay
Citizens, Slaves, Eunuch, Sailors and Soldiers: Vernon Hiller, Douglas Morency, Kevin Nelson, John Prendergast
Citizens: Christy Eaglesham, Kym Huffman, Nancy Pataki, Linda Randle, Nancy Sinning, Valentina Sitnik, Christine Zimmerly
Keywords
A Funny Thing Happened on the Way to the Forum, Theatre Sheridan, musical theatre
Disciplines
Theatre and Performance Studies
Faculty
Faculty of Animation, Arts & Design
School
Department of Visual and Performing Arts
Creative Commons License


This work is licensed under a Creative Commons Attribution-Noncommercial-No Derivative Works 4.0 License.
SOURCE Citation
Theatre Sheridan, "A Funny Thing Happened on the Way to the Forum, November 23 – December 10, 1983" (1983). Theatre Sheridan Productions. 143.
https://source.sheridancollege.ca/faad_visu_uniq_theatre/143
Original Citation
Foster, B. (Director). (1983, November 23 – December 10). A funny thing happened on the way to the Forum [Theatre Performance]. Oakville: Theatre Sheridan.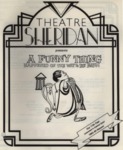 Included in
COinS