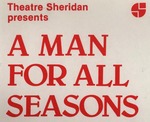 Description
Explores an enduring legacy of 16th-century English history regarding Henry VIII's ambitions to divorce his wife so that he could marry his mistress and potentially have an heir and the Chancellor, Sir Thomas More, who defied him and refused to support the divorce. More is framed by political intrigue in the court and is eventually tried and found guilty of treason.
By Robert Bolt.
Director: Jo Havilland
Musical Director: Jean Minielly
Publication Date
4-13-1983
Production Year
1982/1983
Theatre Location
Sheridan Hall Theatre
Cast
The Common Man: David C. Eden
Mary, Matthew's wife: Sharon McFarlane
Sir Thomas More: Peter Giaschi
Lady Margaret More, Sir Thomas's daughter: Molly Kearns
Lacy Alice More, Sir Thomas's wife
The Duke of Norfolk, Earl Marshal of England: Michael Hannigan
William Roper: Ian Bliss
Master Richard Rich: John Kevin Burnett
Cardinal Wolsey: Douglas Morency
Signor Chapuys, the Spanish Ambassador: Frank Mendicino
King Henry The Eighth: John Oleszkewicz
Thomas Cromwell: Nigel Sloan
Thomas Cramner: Archbishop of Canterbury
A Woman: Valentina Sitnik

Servants, Courtiers, Jurors, Peasants, and People of the court
Alex Bako, Paul Cooper, Barbara Fisher, Deborah Kilmartin, Sharon McFarlane, Douglas Morency, Jayme Patchett, John Prendergast, Patricia Robitaille, Dean Thorne, Roxanne Carriere, Shelley Duncan, Jennifer Flindall, Tom Kubinek, Suzanne Merriam, John Oleszkewicz, Teresa Pettit, Joanne Reese, Valentina Sitnik, Sandy Wallace
Keywords
A Man For All Seasons, King Henry VIII, Theatre Sheridan, musical theatre
Disciplines
Theatre and Performance Studies
Faculty
Faculty of Animation, Arts & Design
School
Department of Visual and Performing Arts
Creative Commons License


This work is licensed under a Creative Commons Attribution-Noncommercial-No Derivative Works 3.0 License.
SOURCE Citation
Theatre Sheridan, "A Man For All Seasons, April 13 – 23, 1983" (1983). Theatre Sheridan Productions. 145.
https://source.sheridancollege.ca/faad_visu_uniq_theatre/145
Original Citation
Havilland, J. (Director). (1983, April 13 – 23). A man for all seasons [Theatre Performance]. Oakville: Theatre Sheridan.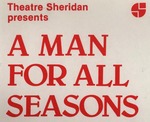 Included in
COinS