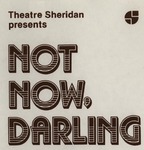 Description
This British farce is a sexy exhibition of love in the round, where an assortment of would-be philanderers and scantily attired females cavort around. Set in a fur salon in London's fashionable Saville Row, the two owners are having difficulties staying financially afloat. The one owner, Arnold Crouch, is concerned about the business but the other, Gilbert Bodley, is busy wooing a prospective mistress. Tensions rise when Bodley tries to win the favor of a particular woman by selling a fur coat to her husband at bargain price and the husband proceeds to gift the coat to his mistress.
By Ray Cooney and John Chapman.
Director: Bryan Foster
Publication Date
1-26-1983
Production Year
1982/1983
Theatre Location
Sheridan Hall Theatre
Cast
Miss Whittington: Shelley Duncan
Arnold Crouch: David C. Eden
Miss Tipdale: Michele McLaughlin
Mrs. Frencham: Deborah Kilmartin
Gilbert Bodley: Peter Giaschi
Harry McMichael: Nigel Sloan
Janie McMichael: Carla Devenish
Mr. Frencham: J. Kevin Burnett
Sue Lawson: Barbara Fisher
Maude Bodley: Judi Skinner
Mr. Lawson: Ian Bliss
Keywords
Not Now, Darling, Theatre Sheridan, musical theatre
Disciplines
Theatre and Performance Studies
Faculty
Faculty of Animation, Arts & Design
School
Department of Visual and Performing Arts
SOURCE Citation
Theatre Sheridan, "Not Now, Darling, January 26 – February 5, 1983" (1983). Theatre Sheridan Productions. 148.
https://source.sheridancollege.ca/faad_visu_uniq_theatre/148
Original Citation
Foster, B. (Director). (1983, January 26 – February 5). Not now, darling [Theatre Performance]. Oakville: Theatre Sheridan.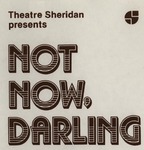 Included in
COinS