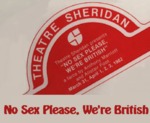 Description
A British farce about a young bride who sends off a mail order for Scandinavian glassware and ends up with Scandinavian pornography and the way in which her assistant bank manager husband, his mother, his boss, a visiting bank inspector, a police superintendent, and a useless but well-meaning friend react are explored in this comedy.
A farce by Anthony Marriott and Alistair Foot.
Director: Bryan Foster
Publication Date
3-31-1982
Production Year
1981/1982
Theatre Location
Sheridan Hall Theatre
Cast
Frances Hunter: Rebecca Field
Peter Hunter: Greg Lawson
Brian Runnicles: David C. Eden
Eleanor Hunter: Susan Hart
Leslie Bromhead: Bob Wills Jr.
Sergeant Paul: Nigel Sloan
Delivery Man: George MacMillan
Mr. Needham: Jon McMillan
Susan: Denise Paquette
Barbara: Teresa Pettit
Keywords
No Sex Please, We're British, Theatre Sheridan, musical theatre
Disciplines
Theatre and Performance Studies
Faculty
Faculty of Animation, Arts & Design
School
Department of Visual and Performing Arts
SOURCE Citation
Theatre Sheridan, "No Sex Please, We're British, March 31 – April 3, 1982" (1982). Theatre Sheridan Productions. 149.
https://source.sheridancollege.ca/faad_visu_uniq_theatre/149
Original Citation
Foster, B. (Director). (1982, March 31 – April 3). No sex please, we're British [Theatre Performance]. Oakville: Theatre Sheridan.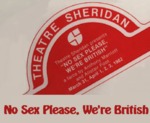 Included in
COinS