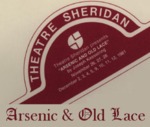 Description
A comedy about the eccentric Brewster family, the spinster aunts, Abby and Martha Brewser, their nephew, Teddy who believes he is Theodore Roosevelt and Mortimer, a successful New Yorker. Mortimer is visiting his aunts to announce his impending marriage to Elaine, the reverend's daughter and discovers that his aunts are serial killers who poison elderly gentlemen and manipulate their nephew, Teddy into burying the bodies. Mortimer must deal with the travesty of his family which is happily resolved when all three consensually agree to be sent to an asylum. Mortimer luckily discovers that the hereditary insanity that is apparent in his family cannot pass to him as he was adopted into the family and can happily marry Elaine and start a family.
By Joseph Kesselring
Director: Jo Havilland
Publication Date
11-26-1981
Production Year
1981/1982
Theatre Location
Sheridan Hall Theatre
Cast
Abby Brewster: Cheryse LaRocque
The Rev. Dr. Harper: Michael Powell
Teddy Brewster: Kevin Burnett & Greg Lawson
Officer Brophy: Rosalyn Dick
Officer Klein: Bob Wills Jr.
Martha Brewster: Judith E. Carr
Elaine Harper: Joan Henson
Mortimer Brewster: Michael Menegon
Mr. Gibbs: Nigel Sloan
Johnathan Brewster: Jon McMillan
Dr. Einstein: Kevin Pierson
Officer O'Hara: Norm Forrester Jr.
Lieutenant Rooney: Andre Doria
Miss Witherspoon: Wendy Hopkins
Body: George MacMillan
Keywords
Arsenic and Old Lace, Theatre Sheridan, musical theatre
Disciplines
Theatre and Performance Studies
Faculty
Faculty of Animation, Arts & Design
School
Department of Visual and Performing Arts
Creative Commons License


This work is licensed under a Creative Commons Attribution-Noncommercial-No Derivative Works 4.0 License.
SOURCE Citation
Theatre Sheridan, "Arsenic and Old Lace, November 26 – December 12, 1981" (1981). Theatre Sheridan Productions. 160.
https://source.sheridancollege.ca/faad_visu_uniq_theatre/160
Original Citation
Havilland, J. (Director). (1981, November 26 – December 12). Arsenic and old lace [Theatre Performance]. Oakville: Theatre Sheridan.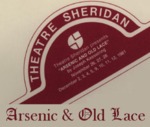 Included in
COinS